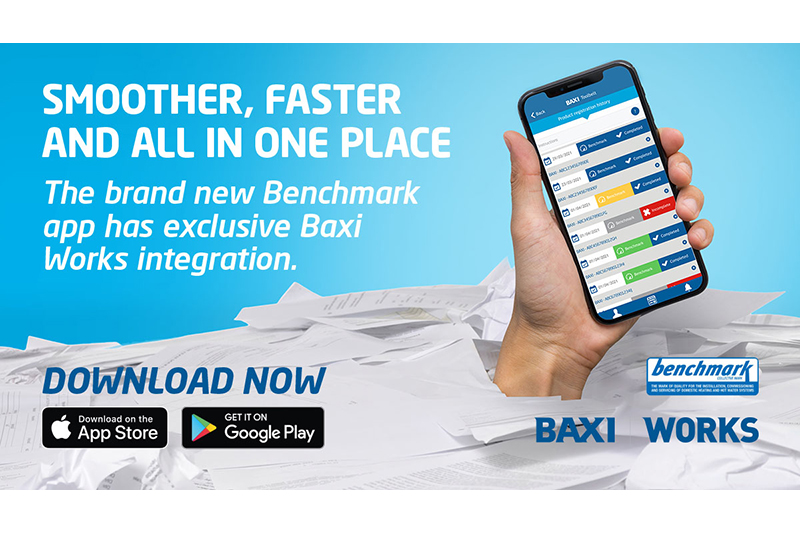 Baxi has been working in partnership with the Heating and Hot Water Council (HHIC) and other industry manufacturers on a project to digitise the Benchmark Checklist. The new Benchmark app will make it much easier and quicker for installers across the industry to record all the commissioning and servicing data that currently needs to be filled in by hand in the installation instructions on completion of the job.
As part of the project, Baxi has also integrated the new Benchmark app with its Toolbelt App, the digital platform that its customers use when on site. Baxi Works installers will be able to access the important checklist digitally, along with Gas Safe notifications, warranty information and registration, other onsite support features, all in one convenient place.
When Toolbelt users input information into the Benchmark feature, this acts as a 'boiler passport' recording installation, servicing and commissioning data in one centralised platform. Using this app, installers can easily keep track of installations completed to the Benchmark standard, as well as ones that still need to be done. Baxi's Toolbelt App also includes a complete list of error codes, key contacts, plus direct access to Baxi Works for quick and easy boiler registration.
David Cook, Residential Sales Director, at Baxi, said: "With a large proportion of Baxi Works members already actively registering boilers using the Toolbelt App, the incorporation of the Benchmark Checklist will encourage our valued Baxi Works installers to prioritise safety and quality by taking a whole life approach to boiler care with information such as installation and servicing history for engineers readily accessible through the Toolbelt App."
The Baxi Toolbelt App and Benchmark app can be downloaded from the App Store for Apple iOS, or from Google Play for Android. All users will be required to download the latest version of the app to be linked up to the Benchmark App.