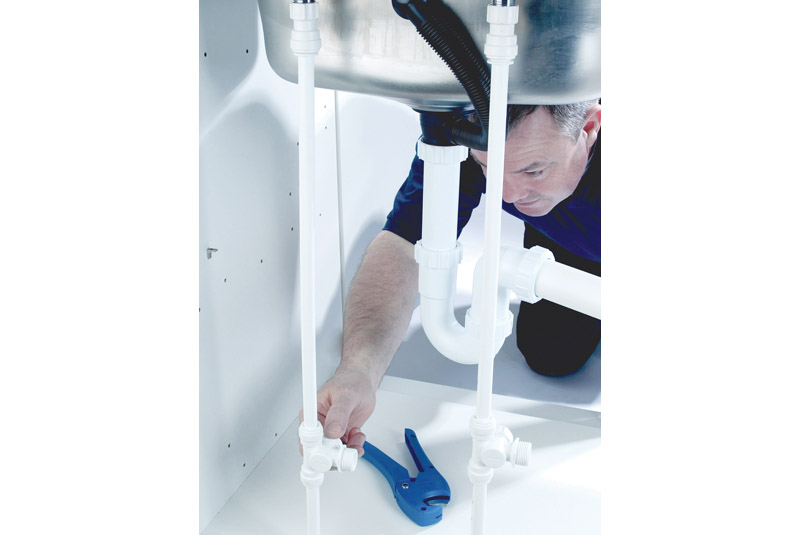 Modern day consumers are wanting more and more from their dream kitchens, especially from the plumbing department. How can installers fulfill these requirements without giving themselves a logistical nightmare? Nigel Sanger, Divisional Director Technical Support at JG Speedfit, explains.
For those that are lucky enough to buy their own homes, or already own a home that they are looking at renovating, there is a lot to think about. Perhaps the room that will be at front of mind is the kitchen. After all, it is as they say 'the heart of the home' for the hustle and bustle and amount of activity that takes place there.
It is easy to see how people can get carried away with the options when choosing what they want from their kitchens. Plumbed in American-style fridge freezers, water filtration systems, boiling water taps, dishwashers, washing machines, extra-large sinks and outside taps are all increasingly affordable and part of making the dream kitchen these days.
However, once the gadgets have been picked, things can get much trickier for those undertaking the job. With so much potential second-fix plumbing required, which is traditionally all hidden away in a tight area under the sink, how can we logistically achieve this in a cost-effective, time-efficient manner?
The answer lies in flexible, versatile, plastic push-fit pipes and fittings.
Plastic, a safer option
Use of copper pipes and components has long been a staple of the plumbing industry. More and more though, this is recognised to be dangerous and time consuming. Taking naked flames inside wooden cupboards to solder joints is a fire hazard, and can leave scorch marks on the new units, especially when the areas being worked in are tight.
Plastic push-fit pipes and fittings, like the JG Speedfit range, don't have this issue. You don't need tools to mount or demount the fittings, making them much safer for installers to use.
Using touch to your advantage
If you have lots of plumbing in one area, it's no surprise that visibility can be low. Poor visibility can slow down the installers as they need to take more time to make connections, as well as ensure that they are compliant, tight, and leakproof.
Accessing service valves and making the final connection to taps can also be tricky. It is here where the push-fit capability really shows its value. With push-fit flexi-hoses that come in more than 50 variations of pipe size & thread pattern the installer can quickly and confidently ensure a leakproof connection.
Last minute changes? No problem
For new projects and builds, pipework will usually be planned in advance by the kitchen designer or architect, so that installers know where things are going before they get on site. However, even the best plans can be subjected to last minute changes.
Should this happen, it is important that the installer does not get held up. Any hold ups can mean lost work for the installer, and delays for the property developers or the homeowners.
As already mentioned, push-fit fittings are quick to mount or demount, requiring no tools. As well as this, changes can be easily accommodated as installers can combine flexible pipes and fittings to complete the job.
Fewer components, less pipework
When installing appliances, it is best to have as few fittings as possible. Using a separate valve and connector can increase the complexity of the installation, while also taking up more time, especially in multi-home developments.
Push-fit tap connectors and appliance taps are very helpful in such scenarios. Tap connectors can easily be coupled with the tap on one end and on the other is a simple push-fit fitting that connects to the mains water supply.
Similarly; appliance taps make installation as well as servicing extremely easy in tight spaces, as they can completely isolate water supply to an appliance with their inbuilt ¼ turn valve. Appliance taps also have a simple push-fit connection on one end for water supply and a plastic thread on the other, which can be coupled with the plastic thread on the appliance hose.
JG Speedfit has designed a specialised second-fix range that makes kitchen installations much smoother and efficient. For further information on the second-fix range, visit www.speedfit.co.uk.