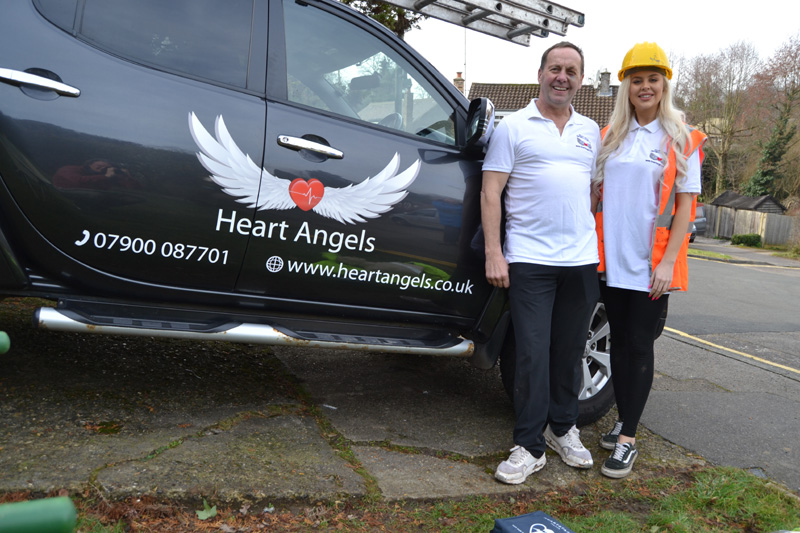 PHPI talks to a tradesperson who is at the heart of a new initiative to reduce the number of fatalities from cardiac arrests.
In an emergency where time is the critical factor, just a little knowledge could save a life. While there are an estimated 38,000 out of hospital cardiac arrests occurring in the UK annually, our survival rate remains woefully inadequate when compared to some of our European neighbours. One man, who has been motivated through a very personal experience, aims to change all that and, via his Heart Angels initiative, is urging the construction industry to get involved.
"I was the fourth generation owner of a roofing firm, and my life was going on relatively nicely," says David Sullivan. "Over the course of a short space of time, however, I had four close friends who suffered cardiac arrests, and that was something that certainly focused my mind on the issue, but it was actually an experience with a complete stranger that inspired me to go much further."
On a golf course with his family, his group were called to the scene of a prostrate figure with blood pouring from his nose. In coming to help, David was able to make use of previous army training – and had, in fact, only recently undertaken a first aid refresher course. After administering a gruelling 43 minutes of continuous CPR, the exhausted David was finally relieved by paramedics – but his intervention was critical to a man's survival.
"What struck me afterwards was just how few people were prepared to get involved," he continues. "It was something that played on my mind, and would become the inspiration for Heart Angels, because, through education, a basic knowledge of CPR, and access to a defibrillator, pretty much anyone can bring someone in cardiac arrest back from the brink."
Since then David has been devoting his time, and a not inconsiderable amount of money, to raising awareness of the issue. As a result he has been responsible for instructing many hundreds in the techniques and equipment required. "We're presently about to embark upon the training of an insurance company's entire 1,400 strong workforce, for instance, and the mission is now to get the message as far and wide as we can. We want people to understand just how critical knowledge of CPR can be and I recently made an appearance on an ITV News piece about Glen Hoddle's survival from a cardiac arrest to make that very point. I have a defibrillator on the side of my house, which is freely available to anyone on our street who needs it and I have trained all of my neighbours in its use. They could be positioned in every sports club, school and office in the country. Builders could carry them in their vans, and organisations of every kind train their staff in their use."
"We were inspired to get involved because my friend and work colleague had a medical emergency himself," says James Cameron of Cameron Building and Landscaping Services, and one of the attendees of a Heart Angels training session. "He had pains in his chest and couldn't breathe and, although it turned out to be unrelated to his heart, we just panicked because we simply didn't know what to do. In a small firm like ours you develop close relationships, and having a defibrillator on the job, and the right training to back it up, could make all the difference in being able to rescue not just a work colleague but a friend."
Educating others
So just what kind of instruction does David deliver to builders like James and his colleagues? The education that he promotes is that endorsed by the Resuscitation Council, and it includes a simple acronym that could mean the difference between life and death. The initial step of DR ABC (Danger, Response, Airway, Breathing and Circulation) is to ensure that there are no hidden hazards that could make the first aider an additional casualty. Next, attempt to elicit a response, and ensure that the individual is not wearing ear defenders. Check the airways for obstructions, and position your face against their mouth to ensure that they are breathing – and finally check for a pulse. Only when that sequence is complete can you commence CPR.
David and his team use the very latest equipment to ensure that the correct technique for cardiopulmonary resuscitation is employed, including a virtual reality system linked to a dummy. This ensures that the hands are positioned correctly and that the optimum figure of 100 to 120 impressions are performed per minute. The trainee is then directed as to how to improve their technique and is given a percentage score as an indication of their performance.
What is at the heart of David's initiative, however, is encouraging organisations to make defibrillators publicly available. "There are no risks associated with the equipment being tampered with because it actually registers the heart function and won't deliver a shock unless there's a problem. Not only that but all of the units we supply are also equipped with a tracker, which is a significant deterrent against their theft. At present the survival rate for people who have suffered a heart attack out of hospital is just 7 per cent. In the course of researching this problem, I've visited cities like Vienna where it's as high as 48%. The construction industry can play a vital role in improving those numbers by adopting defibrillators. I've just supplied a load to R Durtnell & Sons, Britain's oldest building firm because they want their guys to have them on site, but this is just the beginning for us.
"The ambition is to have a nationwide network of trainers who can deliver the knowledge that desperately needed out there and it's something that's proven to save lives."