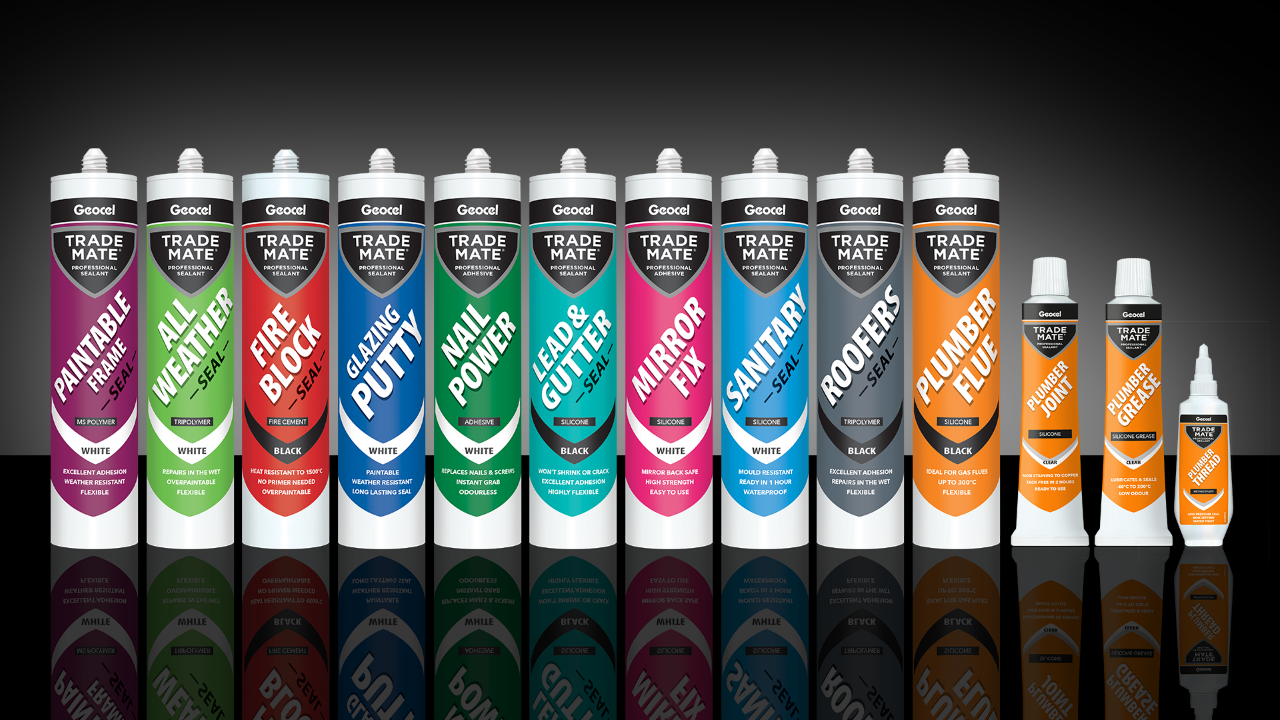 PHPI reports on the relaunch of Geocel's Trade Mate range of sealants and adhesives.
Adhesives and sealants are a vital part of any professional's toolkit. Whether it's for a specific task, like sealing a flue, or a more general application the Trade Mate range from Geocel has been on hand for over two decades.
To help it stand out from the crowd, for 2021 the company has given its popular Mate range a makeover. The range now features new premium packaging with each product's intended application accentuated to make it easy to quickly identify on shelf, the ideal solution for the required job.
An extensive portfolio of professional sealants and adhesives, the Trade Mate range was created to provide a go-to solution to tackle every challenge a tradesperson might encounter on site. Each of the 23 products has been specifically formulated to provide a sealant or adhesive that enables the best possible finish.
Commenting on the relaunch, Andy Cummins, Senior Product Manager at Geocel said: "By refreshing our range of high-quality products they can now be quickly identified on shelf, making it easier for plumbers to find sealants and adhesives specifically formulated for the required application – to ensure they always get the very best results."
Whilst the full range features over 20 products, installers will note that there are a number of products specific to plumbing applications, such as Plumber Flue, Plumber Joint, Plumber Thread, Plumber Grease, Sanitary Seal and Mirror Fix.
Your best mates
A one component, high-temperature acetoxy silicone sealant, Trade Mate Plumber Flue is suitable for use on non-porous surfaces and useful for sealing gas flues. Creating a flexible seal, the product is capable of withstanding temperatures of up to 250°C long term and 300°C degrees short term. Trade Mate Plumber Flue is available in both red and black.
Trade Mate Sanitary Seal silicone sealant is a fast curing, acetoxy sealant suitable for sealing all types of common sanitary wear. As well as ensuring adhesion, the sealant contains a fungicide to resist mould growth and has been formulated to not crack or discolour. Ready to use in just one hour, Sanitary Seal has been designed for a long service life and a high movement capability. It is available in clear and white.
Also available in white is the company's Trade Mate Mirror Fix silicone adhesive, which has been formulated for fixing mirrors, coated glass and metal panels to walls. Designed to be non-corrosive, odourless and high strength, the adhesive is also mirror back safe.
www.geocel.co.uk/news-blog/best-mates-geocel-trade-mate-range/