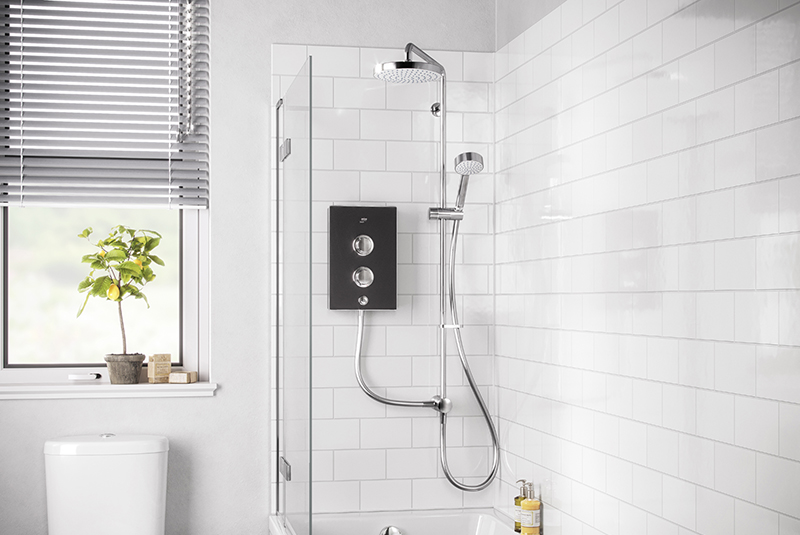 Paul McGuire, Associate Channel Manager – Installer Communications at Mira Showers, looks at the rising popularity of dual outlet showers, and how manufacturers like Mira have responded
Today's consumers expect more from a shower than simply a spray of warm water to wash themselves – they want an 'experience'; time to unwind, seeing the shower as somewhere to escape, not simply a functional part of their routine.
At Mira, we've certainly seen a large shift in the popularity of dual outlet showers with overhead deluge fittings, which can give that experience.
Sales of ERD (dual outlet) mixer showers such as the Mira Coda Pro ERD, are fast becoming equal to the same sales of EV (exposed valve) mixer showers, which really demonstrates the popularity of dual showering and the desire for a more luxurious experience.
The Mira Mode Maxim digital shower is one such example of how we've responded to this growing trend of discerning consumers looking for indulgent showering experiences with its generous 300mm deluge showerhead, featuring Mira CloudCore technology and the Maxim spray.
While smart technology and digital showers continue to be the big driver for growth in the market, the value of electric shower sales should not be underestimated – in 2018, it was worth an estimated £129m, with 1.15m units sold, accounting for a 48% share of the overall UK shower market.
It is also a hugely competitive market, however, so manufacturers such as Mira Showers are constantly striving to innovate and improve their offer. While overhead deluge showers are by no means a new concept, the notion of designing a solution like this for electric showers is really quite different.
We understand that upselling is a key part of an installer's income, and market research has shown that a third of consumers underspend on their budget for a new shower, which presents a great opportunity for not only manufacturers, but also for installers to recommend a better quality of shower than their customer is perhaps first considering.
The resulting product is the Mira Décor dual outlet shower, which launched last year to a great reception. The Mira Décor diverter has been designed specifically to optimise the performance from electric showers, but to also overcome the safety considerations of typical after-market devices.
The Mira Décor dual also includes several innovative features designed specifically for the installer. The overhead outlet can pivot 180°, to ensure the water flow is in the centre of the showering space, whatever the configuration, while the innovative diverter can be adjusted to allow the fittings to be installed either side of the unit, to suit any bathroom layout.
Following on from this success, Mira has developed dual versions of both the Mira Sprint in the UK and Mira Elite SE in Ireland, with more dual electric lines on the horizon.
The new Mira Sprint Dual Multi-Fit has been designed with space and flexible installation in mind, making it the perfect electric shower upgrade.
With 36 possible electric and water supply configurations, it's ideal for replacing existing electric showers. Installation is made easier through being able to position the deluge overhead where it sits over the showering area, thanks to the adjustable arm. What's more, Mira Clearscale technology means the shower lasts longer, with up to 50% reduction in limescale.
The Mira Elite SE is Ireland's first silent dual outlet pumped electric shower and is the latest incarnation of a model first introduced in 1994.
The dual outlets and Quiet Mark approval mean it delivers a better showering experience and performance than any other comparable shower.