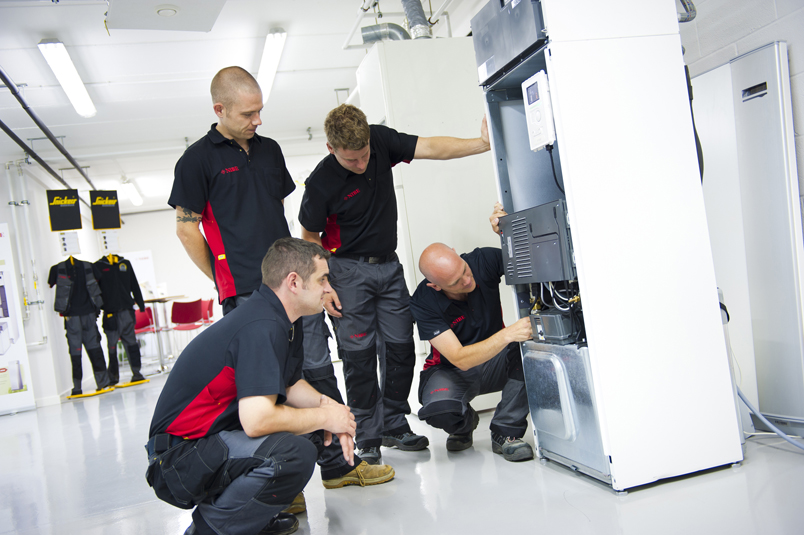 As NIBE celebrates its 10th anniversary in the UK, managing director Phil Hurley reflects on how the heat pump industry has evolved throughout the last decade and explains why installers hold the key to its success over the next 10 years and beyond.
A decade ago, NIBE – already a well-established heat pump manufacturer in Sweden and elsewhere in Europe – launched into the fledgling UK renewables market. It's no surprise that since then much has changed, both for the industry and for the company itself. In fact, it's fair to say that the journey has been something of a rollercoaster. But how does the picture we were seeing a decade ago compare to the status quo – and, most importantly, what can installers and other stakeholders do in the short and medium term to propel the industry into long-term success?
Modest beginnings
Back in 2006, the UK heat pump market was significantly smaller and less crowded than it is today. There were only a handful of suppliers on the scene, most of which were small, independent companies – and the majority of manufacturers (including NIBE) hailed from Sweden and other Scandinavian countries, where heat pumps were already the norm. The customer base at the time consisted largely of early-adopting self-builders, many of whom lived off the gas grid and were interested in the sustainable lifestyle benefits renewables could offer. As a result, product-wise, the market was made up almost exclusively of ground source heat pumps (GSHPs), which are particularly well-suited to rural homes with plenty of land.
Peaks and troughs
That same year, the Code for Sustainable Homes was launched, with the aim of encouraging continuous improvements in sustainable building. This, combined with the fact that the construction industry was enjoying a boom, led to a surge in demand in the new-build sector – both for heat pumps and other renewables. This included the emergence of air source heat pumps (ASHPs), which were beginning to gain recognition as an ideal renewable heating solution for the UK, thanks to our relatively mild year-round climate and the technology's suitability for retrofit applications. In turn, this triggered a rise in heat pump manufacturers entering the UK market, with a particular influx from the Far East.
By 2009, the EU had unveiled its new, binding 20-20-20 targets (including a commitment to cut greenhouse gas emissions by 20% by 2020, compared to 1990 levels). To a degree, this had (and continues to have) the desired effect of driving further market growth – but its introduction was closely followed by the official launch of FiTs (Feed-in Tariffs) in 2010, which marked the beginning of a 'flat period' for heat pumps. Until then, heat pumps and solar thermal collectors had been dominating the renewables market, but the promise of immediate financial rewards meant solar PV panels quickly took centre stage.
Cue the introduction of a similar government incentive scheme for owners of heat pumps and other renewable heating technologies: the now infamous RHI (Renewable Heat Incentive). Although the RHI was first introduced through the same legislation as FiTs (the Energy Act 2008), the official launch of the former came significantly after the latter due to a series of parliamentary hold-ups. In fact, it was delayed by almost five years, and eventually launched in 2014 – four years after FiTs. Those years of uncertainty, which also partially coincided with the economic downturn, inevitably had a knock-on effect on heat pump uptake – dealing a further blow to the industry.
Onwards and upwards
Thankfully, business has picked up since that period, and the outlook for heat pumps in 2016 is bright – and rightfully so. In November of last year, the government confirmed its ongoing support for the RHI for at least the next five years, pledging a significant £1.15 billion in annual funding by 2020/21. However, while the scheme is a positive short-term driver, it's exactly that: short-term. For heat pumps to become truly mainstream, we need to put the spotlight firmly back on sustainability, and focus on communicating their long-term environmental, economic and logistical benefits.
This is where installers come in. As the first port of call for customers looking for a new heating system, they are a trusted source of information and expertise – which puts them in the ideal position to showcase the true quality, efficiency and scope of the technology. Put simply, without installers' support and guidance, consumers are far less likely to be aware of renewables and their capabilities, let alone have the inclination to invest.
However, here lies another challenge: building an abundant, highly skilled workforce that can respond to rising demand. At the moment, there are only around 1,200 MCS-accredited installers in the UK, which simply isn't enough. Yes, manufacturers should be offering strong training packages that make heat pump fitting an attractive and lucrative career prospect, and ultimately inspire installers to enhance their skillset. But tradespeople themselves should also be proactive about recognising the commercial benefits of upskilling, and pursuing the necessary credentials to get ahead. That said, at NIBE we do believe that there is currently too much red tape around MCS accreditation, which is why we're calling for the process to be made simpler, more cost-effective and subsequently more accessible. This, in turn, will give installers the tools and motivation they need to pique consumer interest in heat pumps on the necessary scale.
Lasting commitment
A lot has changed in 10 years, but one thing that has stayed constant is NIBE's commitment to heat pumps in the UK. In that time, we're proud to have been heavily involved in driving forward several policy changes that have helped the industry flourish and maintain high standards of quality, including the MIS 3005 guidelines for MCS-accredited heat pump installations. We have also grown from a leading Nordic manufacturer, to a leading European manufacturer, and now a leading global manufacturer – proving that there is a worldwide demand for technologies that can help solve the planet's fossil fuel crisis.
But our work is far from done. As we speak, NIBE and other industry leaders are campaigning for further legislative changes that will help level the playing field between traditional fossil-fuel based heating systems and heat pumps. Along with strong communication and a substantial installer base, we're confident that this will give the market the foundations it needs to flourish for the next decade and well into the future. And for that reason, we're here to stay.