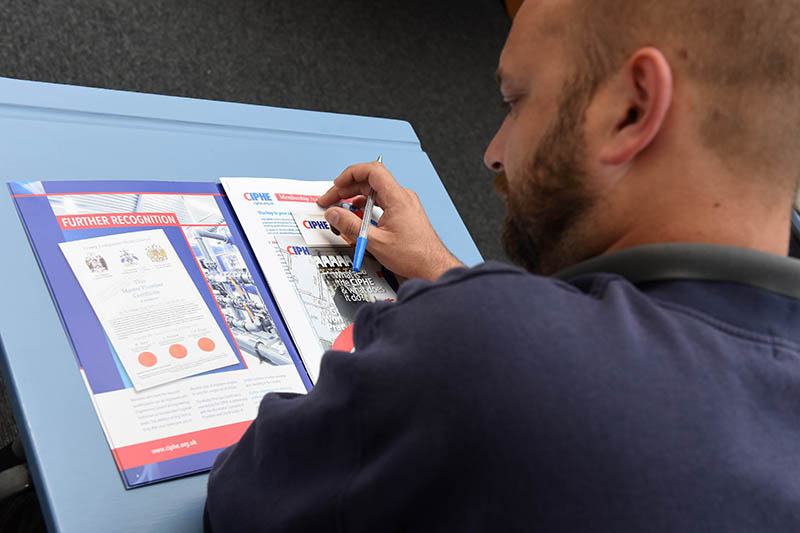 It is still very rare that the overall plumbing and heating performance of a building will be assessed during an annual service. Jerry Whiteley, Technical Manager at the Chartered Institute of Plumbing and Heating Engineering (CIPHE) explains why servicing needs to be more inclusive of hot and cold water services, water safety, above and below drainage, controls and renewables.
By limiting an annual service to the boiler alone, occupants are at greater risk of something going wrong elsewhere in the plumbing or heating system. With this in mind, and to keep the household safe, a whole building approach should be taken when assessing the safety and efficiency of plumbing and heating systems.
The CIPHE advises that, where possible, a plumbing and heating engineer should conduct a whole home health check. Installers should of course only advise on what they are qualified to install and maintain.
Hot and cold water services
Maintaining efficient hot and cold water systems is important to prevent unwanted heat gains into potable cold water, and ensure that water systems do not freeze in colder weather by checking the pipe insulation is sufficient. While this might not be a concern in the summer months, talking about it now before winter will mean that homeowners can avoid frozen condensate pipe problems in the future.
Making sure that homeowners are aware of the location and accessibility of the stop tap is another important point to raise. You can check the functionality and advise the consumer to maintain it by turning every so often so it doesn't become seized and unusable. Also, never keep the stop tap fully open.
Water safety
Regularly checking the water safety of systems is important to ensure that the correct temperature is maintained, is contamination free, safe, and runs as efficiently as possible. The dangers of poorly maintained water systems, such as hot water cylinders, could result in legionella or other such water borne health risks.
One of the most effective ways to decrease the prevalence of legionella is to ensure all water systems are compliant with the various standards and guidelines produced by the Health and Safety Executive (HSE); these include ACOP L 8 and HSG 274, which stand alongside more industry-specific standards (such as HTM04 for health care premises).
It is important that an installer follows the Building Regulations (Part G) to protect the safety of fitted systems. To be deemed competed, installers must be G3 trained in order to fit and maintain an unvented hot water cylinder.
Controls
Encouraging the installation and/or upkeep of home heating controls has been an ongoing priority for the CIPHE and its members for some time. Regular checks will ensure that all controls are working efficiently and, in some cases, updated to offer the best energy saving and monitoring options. Understanding your customer's behaviour when it comes to their use of heat and hot water will enable you to best advise them regarding their use of controls too.
Above and below ground drainage
Whether above or below ground, all drainage systems need regular maintenance to ensure that the pipework is still intact and the installation is correct and holding up as it should. Things to check for include that the right termination of waste pipe is present, as well as the correct sizing and installation of the pipework.
Renewables
Recent net zero and sustainability targets mean that heat pumps and other low-carbon heating alternatives will likely become more commonplace in the future. For professional plumbers and heating engineers, this will present a new set of installation and maintenance challenges; to ensure that any new technology in a customer's home remains safe and efficient to use over time.
The CIPHE recognises that some 100,000 heating engineers will need to upskill for the industry to effectively contribute to meeting 2050 net zero targets. The CIPHE will support members by working with our approved training centres and industrial associates to provide quality training covering renewables.
Overall, the CIPHE is passionate about communicating the need for adequate protection against risks of serious health issues, caused by poorly installed and maintained plumbing and heating systems. While the CIPHE is actively involved in consumer education programmes to promote the need for regular servicing across the home, installers on the frontline have a valuable role to play in educating and protecting homeowners too.
When you are called out to a job, even simply mentioning these other checks will help improve understanding around the importance of a whole home health check. Not only is this a great way to safeguard the customer against future potential problems, but also demonstrates your professionalism and due diligence when it comes to offering thorough advice and guidance at the time of an annual service.
To find out more, or to become a CIPHE member, contact Tim Sainty on 01708 463102 or at [email protected]