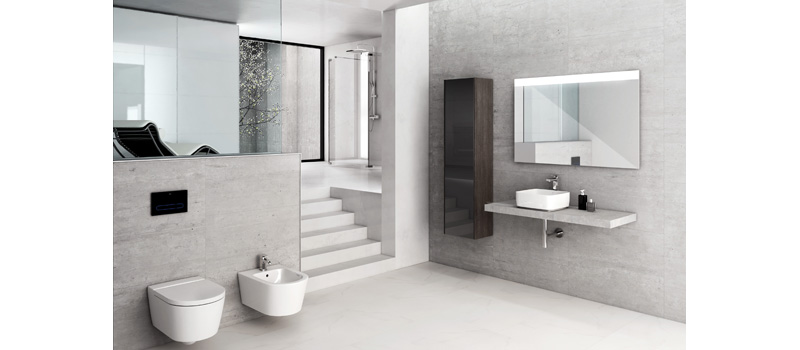 Georgina Spencer, Head of Marketing for Roca Group (UK), looks at some of the key washroom developments for 2016.
Over the last few years, the look and functionality of the bathroom have moved on apace, with improved technology, changes in style and products that impact the environment less and that take up less space in our ever shrinking homes. Water no longer flows out of taps, it 'cascades' and close-coupled WCs and pedestal basins have fallen out of favour, with sanitaryware and furniture now floating on the wall. In reality, most of your work will probably still involve 'standard' stuff, but with a knowledge of what's out there you could suggest better alternatives and in many instances, make your life easier too.
Here's a lowdown of just some of the trends hitting bathrooms this year:
Lightweight versatility
The materials sanitaryware is made of are changing. For the customer, this offers greater choice and for you, the right products can mean a better quality option that's easier to work with. Very lightweight ceramics, such as Roca's FineCeramics, are one such development, providing a lighter and stronger alternative for basins and WCs.
It might seem at cross-purposes that something that weighs less can be more durable, but in the case of Roca's new Inspira range, there is 30% greater tensile strength compared with conventional fine fireclay. This means the product is easier to handle and less liable to break in your van, cutting the risk of wasted expenditure. The fact it's lightweight (30 to 40% lighter) makes it safer to work with, reducing bad back issues and the strain it places on a building's walls.
Shape shifting
End users are looking for choice when it comes to the shape of their basins, WCs and baths. We've recognised this and the aforementioned Inspira range includes square, round and 'soft' product shapes. This allows people to match, or mix their bathroom design to their personal preference. In general, 'convention' is being questioned across the board – there are even taps that control the shape of how the water falls.
Clutter free
Getting rid of clutter using clever furniture is a key trend. Bottles and other bathroom detritus must be hidden away and, with tall or corner cabinets coming into fashion – 56% of recipients in our recent survey of 2,000 homeowners said they'd prefer these options to vanity units. Aesthetics and space saving are very high on people's agendas too, with 77% stating these qualities were more of an influence than price.
Green and sustainable
The trend for sustainable bathroom products and practices is an enduring one, with water saving still high on many customers' agendas. According to our own research, 62% of end users favour water saving brassware – think low flow or flow restricting taps, utilising aeration for the feeling of power without the water wastage. What bathrooms are made of can contribute to a 'green' approach too. There are tiles made from recycled materials and by choosing lighter weight sanitaryware, less product is used in manufacture and less carbon is expended in delivery. Ceramics and some plastics are also 100% recyclable.
Wall-hung wow factor
Wall-hung will continue to grow in popularity. It has so many benefits over traditional close-coupled WCs and basins – space saving, style credentials, easier cleaning, to name a few. For installers, this means getting to grips with frames, something that shouldn't be too arduous as long as you choose the right frame for the job and follow manufacturers' instructions correctly. Really on-trend bathrooms are also finding a home for taps, showers and furniture on the wall.
Raining on the inside
Big shower heads are most definitely in, providing a 'rain' like experience for end users who are completely engulfed in water. Previously the preserve of wet rooms or large, often high-end shower cubicles, there are now options for the more average bathroom, including shower columns that are simple to fit from an installers perspective. When it comes to taps, luxury bathrooms are choosing the waterfall variety, with large sized, wide spout options adding impact to baths in particular.
Don't just stick to the products you've always used, why not explore the latest trends and offer end users something different in 2016. Trying out new products and styles will make your job more varied and your customers' bathrooms more interesting, stylish and user friendly places; a talking point that could see you winning more work by referral.