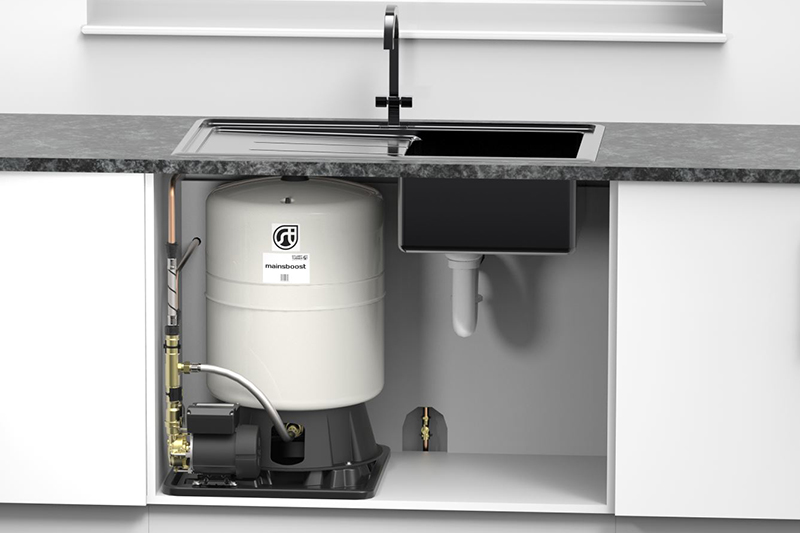 The Mainsboost Flomate MBF 60-1-15 is designed for low occupancy properties with one bathroom and fits neatly within a standard 500mm kitchen base unit. Mainsboost Flomate MBF 60 can be connected directly to the incoming mains and will deliver up to 16 litres/minute flow at 3.2 bar pressure to multiple outlets within the property, up to the pre-set cut-in limit of the 60 litre pressure vessel, at which time the system will deliver 12 litres/minute until demand ends and the pressure vessel recharges.
This product comes with a three-year warranty, is fully WRAS approved, engineered with robust brass construction, and is continuously rated. Working in quiet operation, it's designed to be ideal for properties looking to boost their pressure whilst not disrupting day-to-day life.
Flow testing kit
When specifying a Mainsboost system, it is very important to check the incoming pressure and flow rate. This can be carried out by using the Stuart Turner pressure and flow testing kit. The test kit has been designed to connect to outside taps or 15 and 22mm pipework. Connect to outside tap, close isolation valve, open outside tap – this will record your standing (static) pressure, open isolation valve to run the water, this will record your flow rate through the flow meter and will also record your dynamic pressure.
By carrying out this exercise, it will determine whether or not you need a pump for your Mainsboost system. If your standing (static) pressure is below 2 bar, we would recommend using a Mainsboost charger pump. However, if you have 2 bar or more then no pump is required.
Win a Mainsboost Flomate 60
All you have to do to be in with a chance of winning is answer the following question:
How much water can be pumped directly off the mains water supply?
To submit your answer and enter the draw, click here