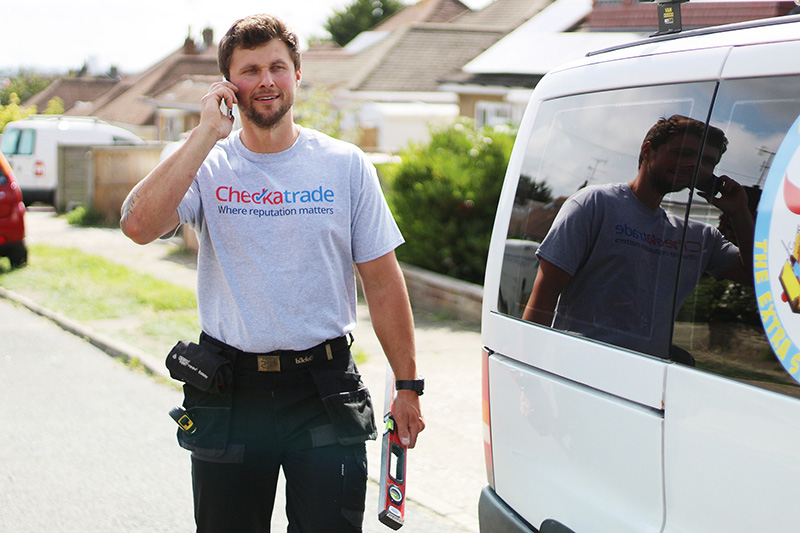 Checkatrade has teamed up with PHPI to give you the chance to win six months free membership to its website, along with £100 to spend on Amazon (terms & conditions apply).
Checkatrade claims to be the UK's number one website for finding a tradesperson, and lists over 50,000 trade members, who have been recommended, vetted and monitored to join the directory.
Checkatrade says: "Since 1998 the company has stood for reputation, raising standards and doing things right. Today is no different. In fact, with more tradespeople and consumers choosing Checkatrade than ever before, we remain the leaders when it comes to finding the right trade for home renovation, maintenance and emergencies. And that's because, above all else, reputation matters to all of us."
Consumer confidence
Robust vetting standards give consumers the confidence that they are in safe hands – up to 12 rigorous checks take place on members before and throughout membership, and all members sign up to a code of conduct called 'The Checkatrade Standard'.
Checkatrade receives over two million monthly searches from homeowners looking for a reliable tradesperson. Checkatrade says: "Whether you are looking to grow your business and generate more work or receive endorsement and the tick of approval from Checkatrade, we can help."
The prize
If you're the lucky winner, your membership will include:
Building your own profile page on Checkatrade.com
Using your profile to showcase your high standard of work by uploading your best images
You can use your profile to promote your credentials with your verified customer reviews
You'll receive free marketing materials and van vinyls to promote your membership
You can access the Checkatrade Buying Club, saving you thousands of pounds on business essentials like vehicles, fuel, tools, insurance and workwear etc.
£100 Amazon voucher
How to enter
To be in with a chance of winning, simply enter your details below before midnight on March 10th 2021…
Terms & conditions
The Promoter: Vetted Limited, (trading as Checkatrade)a company incorporated in England & Wales (company number 04285394) with its registered office at Building 2000, Lakeside North Harbour, Western Road, Portsmouth, PO63EN ("Checkatrade")
1 By entering this competition you agree to be bound by these terms and conditions. To enter, entrants must be aged 18 years and over and be a resident in the UK.
Employees (and their families or agents) of Checkatrade or any of associated companies cannot enter the competition.
2 The competition will be open from January 12th 2021 at 00:01 ("the Opening Date") and will close at and ends on March 10th 2021 at 23:59 ("the Closing Date"). Entries received before the Opening Date or after the Closing Date will not be entered into the competition.
3 The winner of the competition will receive Full Membership of Checkatrade for 6 months (inclusive of VAT) for any business that operates within trade categories serviced Checkatrade and £100 Amazon Voucher.  All entrants will be entitled to two months free fixed membership.  These Membership offers are subject to applicants completing and passing Checkatrade's standard membership vetting procedures.
4 One entry per person/trade. If more than one entry is received only the first entry will be accepted.
5 Checkatrade reserves the right to substitute the prize with a prize of equal or greater value in the event that the prize described above cannot be provided to the winner. The prize is non-transferable, and no cash alternative will be given.
6 The winners of the competition will be drawn at random from all valid entries received between the Opening Date and the Closing Date. The draw will be made on or shortly after ****. Checkatrade will notify the winner by email. It is each entrant's responsibility to ensure that their contact details are accurate and complete. If any winner cannot be contacted or fails to confirm acceptance of their prize within 3 working days of being notified, that prize winner will forfeit their prize and Checkatrade reserves the right to select an alternative prize winner.
7 You are unable to enter the competition if you are already a registered member of Checkatrade.
8 Your entry details will be passed to Checkatrade and can be used for marketing purposes. By entering this competition, you agree that you may receive communications from Checkatrade. If you do not wish to be contacted, please add NO COMMUNICATIONS in your email entry.
9 Checkatrade's decision will be final and binding and no correspondence will be entered into. However, the name and county of any of the winner will be available by sending a stamped address envelope to: Professional Builder Competition Winner, Building 2000, Lakeside North Harbour, Western Road, Portsmouth, PO63EN . Checkatrade will use any information which you provide or which we obtain from our dealings with you in accordance with our Privacy Policy and to administer the competition. Checkatrade's Privacy Policy is available at https://www.checkatrade.com/blog/checkatrade-privacy-notice/.
10 By entering the competition, you agree that your name and location in the format 'John S, Portsmouth, Business Name' to be used by Checkatrade in social media communications (Facebook, Instagram, Twitter) or marketing material referencing the competition. The competition winner also agree that Checkatrade shall be allowed to take photographs or videos of them/their business for use in promotional follow up marketing communications. All intellectual property Checkatrade but may be shared with winning parties. Also, we may require photographs to be sent to us of them or their business to use in promotional follow up marketing communications.
11 Checkatrade shall not be responsible or liable for any expenses incurred by any winners over and above the prizes offered above and the competition entrants participate in the prize at their own risk.
12 Checkatrade reserves the right to change, alter or withdraw the competition at any time.
13 If any of these terms and conditions are found to be void or unenforceable, that term shall be deemed to be deleted and the remaining terms and conditions shall continue in full force and effect.
14 These terms and conditions shall be governed and construed in accordance with the laws of England and Wales. Any dispute arising is subject to the non-exclusive jurisdiction of the courts of England and Wales.