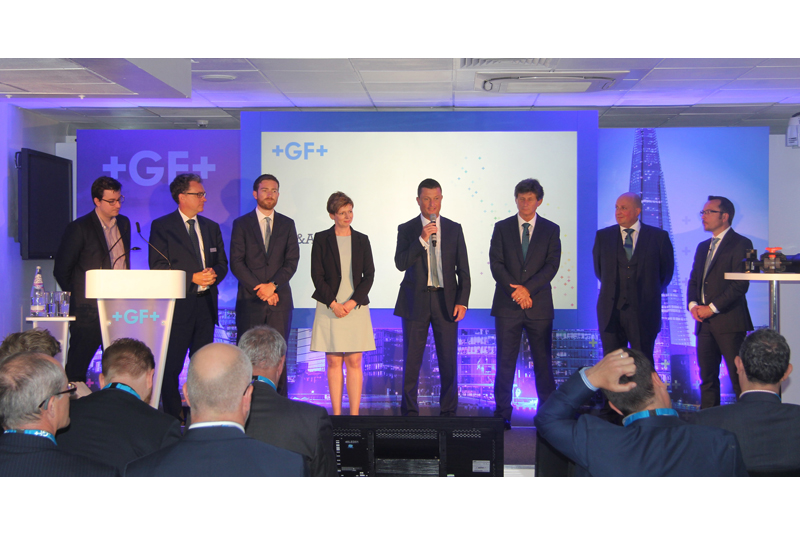 One of Europe's biggest manufacturers of pipework and fittings for building services staged an event in London recently to unveil an enhanced offering to the industry, as well as to underline its confidence in the UK construction industry.
Richard Trevaskis, GF's MD & Head of Northern Europe began proceedings with an overview of the Big in the City concept and the company's ambitions for growth, and offering customers an even better level of services as well as product quality. Centre stage, however, was the manufacturer's prefabrication service for pipe systems intended to simplify the installation of chilled water and other essential pipework within the new generation of skyscrapers, set to house the UK's booming population as well as the businesses where they will work or spend their leisure time.
Sales and Marketing Director, Darren Myers, took the microphone to explain the key benefits to Instaflex, the manufacturer's polybutylene pipe system which offers a very wide service temperature band and is suitable for multiple applications from heating to boosted chilled water and compressed air. He explained how the company's socket-fusion and electro-fusion processes can be employed for offsite fabrication and then final assembly on site. This has the potential to improve speed and accuracy while reducing cost for the client and also offers an answer to the continuing skills shortage. Also showcased were Aquasystem and ecoFIT piping systems offering cost effective solutions for all building services applications.
The highlights of the event were the product launches, firstly of GF's new COOL-FIT 2.0 fully pre-insulated piping system – a product for chilled water applications and the completely new City Range of slimline heat interface units or HIUs, which are ideal for the final delivery of heating and domestic hot water in multiple occupancy properties. Mike Reader from Constructing Excellence also offered his perspective on the state of the industry and the opportunities available to the big players in the market.