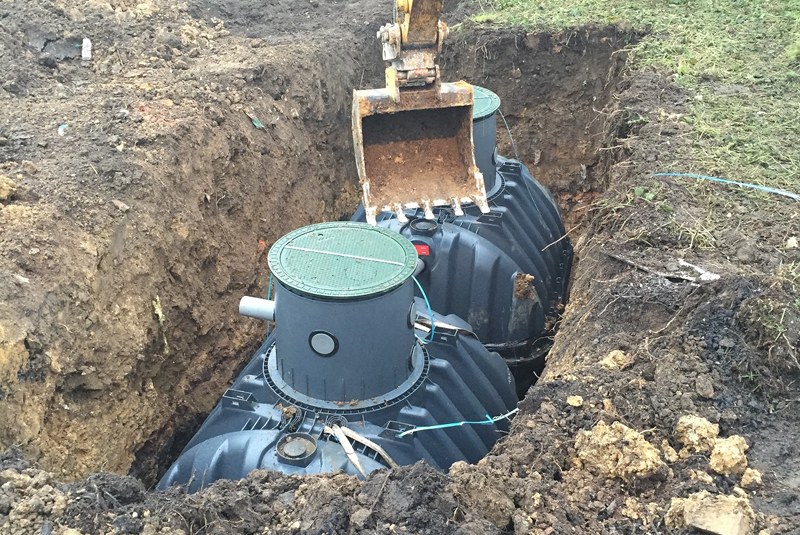 A row of four terraced 1940s cottages in Kent has swapped its outdated, inefficient septic tank with a brand new Klaro E Professional wastewater system from Graf UK – providing residents with a cost-effective, clean and low-maintenance drainage solution fit for the future.
Located in the village of Horsmonden near Tunbridge Wells, the homes have no access to mains drainage, and had previously been relying on an old brick septic tank to service their wastewater needs. This regularly overloaded, using a gravel-filled soakaway to manage the overflow. This meant the system became odorous, high-maintenance and costly to run – with the tank needing emptying every six to seven weeks.
Barrie Smith, Graf UK Business Development Manager, specified and designed a state-of-the-art wastewater system made up of two 4,800L Klaro E Professional tanks – enough to service up to 22 residents – and a soakaway comprising nine underground infiltration tunnels. Typically, infiltration tunnels are not permitted in residential projects such as these, as pollutants in the waste from septic tanks need to be spread over a larger area of land. However, because the Klaro E system produces such high levels of water purity, official approval from the Environment Agency was given to install the tunnels behind the homes.
Gareth Robinson, who installed the system, says: "We placed the infiltration tunnels in a concealed gravel bed 1.8m below ground level. Once treated, the clean water from the Klaro E tanks flows directly into the tunnels and out through their perforated walls and then into the surrounding gravel bed – allowing it to be gradually released back into the ground. As well as eliminating any flood risk and minimising unpleasant odours, this setup means the Klaro E tanks only need to be emptied of residual sludge every 12-18 months – significantly reducing maintenance requirements and costs."