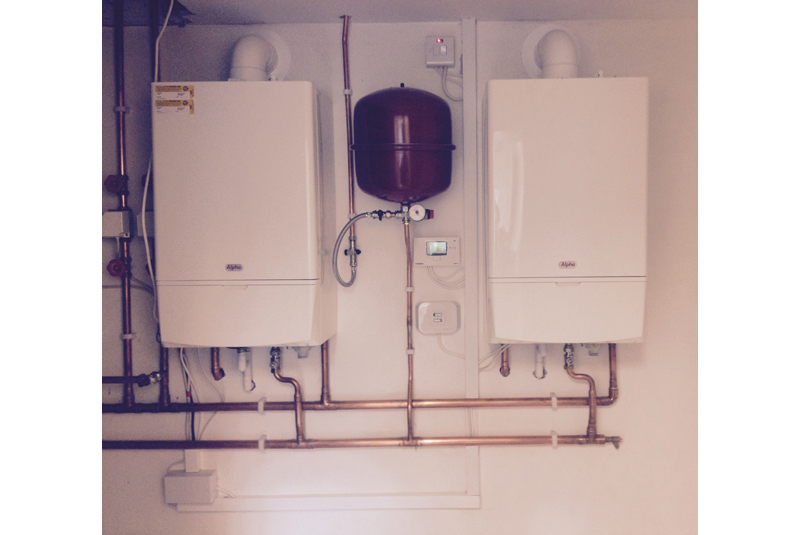 Alpha Heating Innovation has recently replaced old open flue boilers at a farmhouse in Halifax with two of its 30kW system boilers. By linking the two boilers together, the farmhouse benefits from the quick warm-up rate and efficient circulation.
Open flue boilers are known to be less efficient, but can also be dangerous. They draw air from the room towards the burner to maintain combustion and if there is insufficient air to allow this, poisonous carbon monoxide can be produced. To provide a safer and more efficient alternative, installer James Phelan opted for two of Alpha's 30kW InTec2 SE pressurised system boilers.
The InTec2 boilers benefit from a new heat exchanger with larger waterways that delivers faster warm-up, better circulation and more resistance to overheating and blockages. In addition, a new combined condensate and pressure relief valve connection and dry-change NTCs help to save time during installation and servicing.
The two boilers were linked together to provide quicker warm-up and improved circulation, whilst the Grundfos pump and hydroblock assembly ensure hot water demands are met efficiently. Finally, the backlit LCD with push button controls and advanced combustion management allow for ultimate control.
James Phelan has worked with Alpha for a number of years to provide plumbing and heating services in West Yorkshire. Commenting on this project, he said: "My main concern for this project was upgrading the heating to a safer system and I knew I could rely on Alpha's products to get the job done. As well as providing good boilers, the warranties and aftercare support that Alpha offers are just some of the reasons I continue to work with the company."