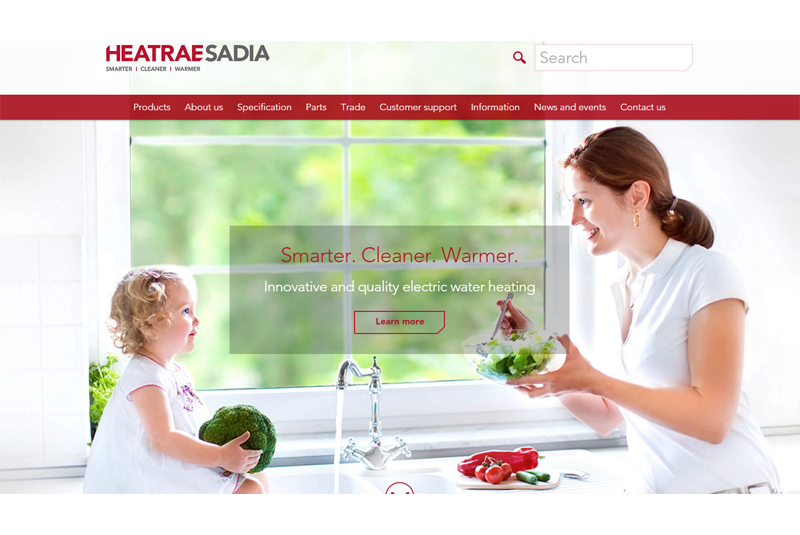 Heatrae Sadia has developed a fully responsive, easy-to-use website that reflects its Smarter, Cleaner, Warmer branding.
The new site includes all the information installers need on Heatrae Sadia's products, with its new design ensuring that technical details and images can be found quickly and easily.
Heatrae Sadia has included easy-to-use libraries for literature, BIM files and video content. Other new features include an e-newsletter signup facility, where users can opt to receive the latest news, event details, advice and new product information, a Twitter feed and enquiry and warranty registration forms.
Jon Cockburn, Head of Marketing at Heatrae Sadia, said: "We know that installers generally use product websites via their mobile phones or tablets while they're on the go; they might need to look at a product while they're at a merchant counter, or show something to a customer or check installation details during a site visit. Therefore it was essential for us to launch a fully responsive website, where the content works just as well on a mobile or tablet as it does on a desktop.
"We've also taken the opportunity to make the site easier to use. Our 'Megamenu' navigation system will improve the customer journey by making browsing simple and straightforward. We've also added features like thumbnail image galleries and suggestions for similar website content users may also be interested in.
"Furthermore, a real-time predictive website search means installers and consumers will be able to find the Heatrae Sadia site and information about our products much quicker than before.
"While there is lots of technical data for installers, contractors and specifiers, we know that consumers also use the website, so we have included information and images to appeal to that audience too."
To view the new website, visit www.heatraesadia.com