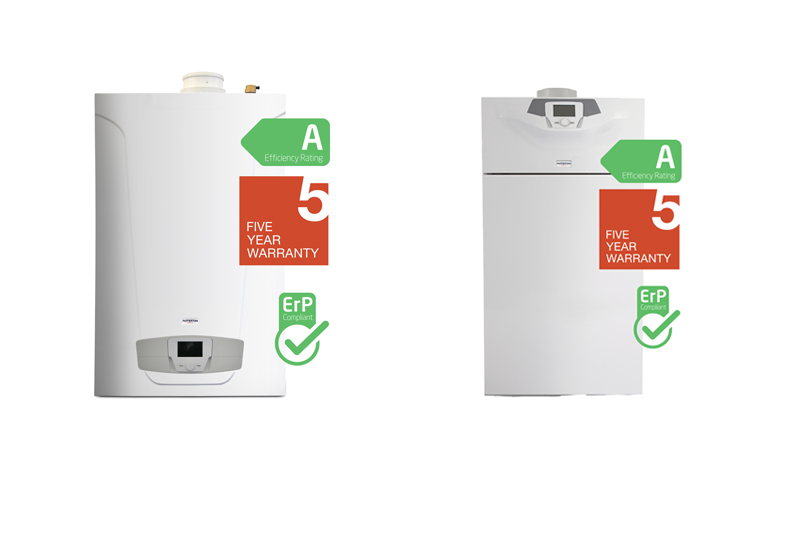 Potterton Commercial has released its most comprehensive range of condensing boilers, providing a high performance, cost effective and energy efficient heating solution for large buildings such as schools, hotels, nursing homes, office blocks and leisure facilities.
The new Sirius three range offers compact power across its 15 wall-hung and floor-standing appliances, offering outputs of 50 to 250kW and up to 1MW in cascade. The floor standing models have been designed to pass through 700mm doorways, making them easier to position when space is at a premium. The larger outputs also have castors on the bottom for greater manoeuvrability. To maximise space in even the smallest of plant rooms the 110, 130 and 150kW models occupy the same compact footprint as the 90kW model.
The new boilers are accompanied by a portfolio of cascade accessories including low loss headers and plate to plate heat exchangers, which can effortlessly be attached to each boiler. What's more, they are supplied with boiler case extension panels which conceal the pipework for a professional finish, helping installers to improve project quality.
All boilers in the range offer a seasonal efficiency of greater than 96% and modulation ratio of up to 9:1. Most models also feature on the Energy Technology List (ETL) for the Enhanced Capital Allowance (ECA) tax scheme, meaning companies can write off the cost against the business's taxable profits in the financial year the purchase is made. Legislative requirements are also covered, with NOx emissions as low as 24.7mg/kW, thanks to the Sermeta bluejet burners.
The entire range is supplied with Siemens controls including the QA75 full text twist button controller. This advanced Human Machine Interface (HMI) makes programming and commissioning quicker and easier for installers, and the integrated cascade function means that up to 16 boilers can be managed by one controller. The 0-10 volt connection provides a quick and simple interface with BMS systems. Weather compensation is supplied as standard, and LPG kits are available for off-grid applications.
Steven Evans, sales director at Potterton Commercial, said: "Products which offer different power outputs with the same size footprint are not only easier to site, but also useful for future upgrades. As businesses grow, they may find their heating demand increases and our compact solutions enable contractors to easily upgrade to a more powerful boiler without taking up any additional room.
"By choosing Sirius three boilers, customers can rest assured that they are getting quality, efficiency and reliability in outputs to suit nearly every application. Contractors can also have peace of mind knowing the products they install have been designed by a company with 150 years of commercial heating heritage. And in the unlikely event of a breakdown, we also offer 24/7 technical support, meaning help is at hand even at the most unsociable of hours."
The wall-hung range is available in outputs of 50, 60, 70, 90, 110, 130 and 150 kW. Floor-standing models are available in 50, 70, 90, 110, 130, 150, 200 and 250 kW.