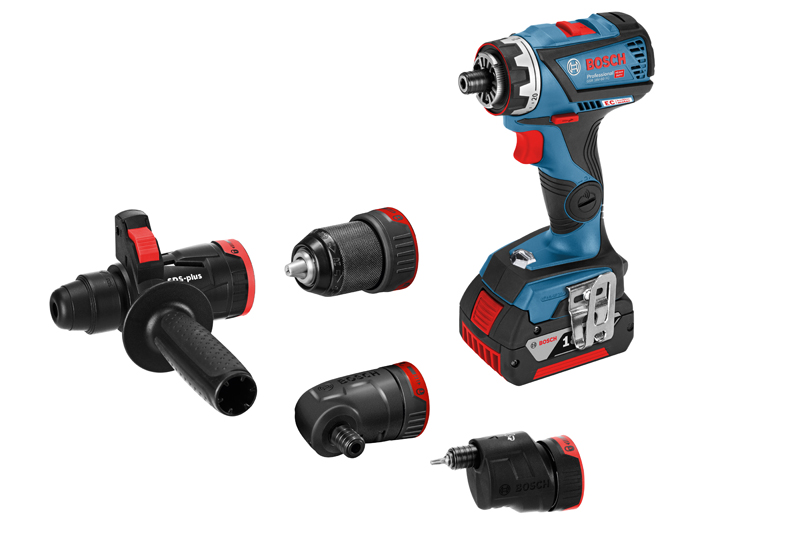 Bosch has equipped its latest 18 V cordless drill driver with the FlexiClick attachment system to create a do-it-all tool.
Using a range of adapters, the versatile Bosch GSR 18 V-60 FCC Professional Drill Driver with FlexiClick can be turned into anything from a screwdriver to a powerful rotary hammer drill.
The same system provides flexibility for work in various situations, including hard-to-reach places and also has added connectivity and electronic protection features.
At 140 mm in length, the drill driver's compact tool dimensions are said to be suited to operation in tight spaces and, with the addition of flexible adapters, has a far reach. It also enables drilling in wood, metal and concrete, as well as classic screwdriving.
The main FlexiClick adapters are:
GFA 18-M Professional Drill Chuck Adapter. A highly robust attachment, with a solid metal construction, holding drill bits of up to 13 mm diameter.
GFA 18-W Professional Angle Screw Adapter with HEX socket. Allowing precise screwdriving even in tight spaces as it effectively drives screws around corners.
GFA 18-E Professional Off-set Angle Screw Adapter. Enabling precise screwdriving close to edges.
GFA 18-H Professional Rotary Hammer Adapter. With this attachment the drill driver becomes a high-powered SDS-plus rotary hammer with an impact energy of 1 J.
Also available are the GFA 18-B Professional Drill Chuck Adapter, with a plastic construction for lighter tasks, and the GFA 18-WB Professional Angle Screw Adapter, for round-shank drill bits.
Adapters are attached to the drill driver using the 'turn and click' motion already familiar to users of keyless chucks. The adapter should be placed on the FlexiClick interface and turned clockwise, with repeated clicking, indicating a secure connection.
FlexiClick adapters can also be adjusted without removal from the tool. It offers adjustment through 360 degrees, with 16 different locking positions.
Inbuilt user protection 
The risk of kickback-related injury, when a drill bit becomes jammed in the work material, is said to be minimised by the Bosch KickBack Control. If the system's sensors detect a sudden blockage, the motor is switched off within a fraction of a second.
Also featured is brushless EC technology, so users can expect a long motor lifetime and maximum battery runtime. In addition, Electronic Motor Protection (EMP) uses an integrated temperature sensor management system to safeguard against overloads. Meanwhile, the battery features Electronic Cell Protection ECP, to avoid damage from overloading, overheating and deep discharge.
Another electronic control function, the Precision Clutch, prevents overtightening of screws. This saves wear and tear on the work material, the screw, the screwdriver bit, the clutch and the tool.
Bosch connectivity 
A Bosch connectivity module, slotted into the tool, will establish Bluetooth wireless communication between the drill driver, the user's smartphone and the free Bosch Toolbox app. This connection can be used, for example, to configure the KickBack Control, Precision Clutch and other settings according to individual needs and preferences. Instructions for adjustment can be given via the phone, even at a distance, and the system will remember them for future reference.
Other benefits of connectivity include warning of malfunctions, checking of essential indicators, advice on troubleshooting, and access to information on the tool's operating history.