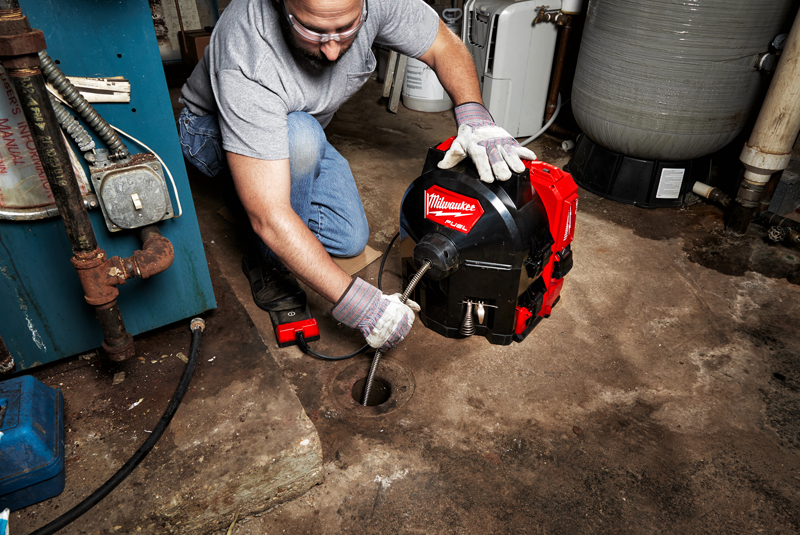 PHPI reports on Milwaukee's M18 FUEL Free Standing Drain Cleaner SWITCH PACK System.
Milwaukee Tool has announced what it describes as the next big breakthrough for drain cleaning professionals. The M18 FUEL SWITCH PACK Sectional Drum System is said to be the first drain cleaning solution that combines the benefits of sectional and drum machines to create a versatile and mobile machine.
"The most frequent challenges of any drain cleaning application are simply getting the machine to the job and containing the mess, and no machine today is capable of tackling both those challenges. Drum machines improve mess containment by housing the cable in a drum, and sectional machines provide a lighter weight alternative by separating the cable from the machine, but neither option fully meets needs of the user," said Bela Berecz, Product Manager for Milwaukee Tool.
"The M18 FUEL Freestanding Drain Cleaner is the first solution that tackles those most fundamental frustrations. The tool's modular design with backpack straps provides the easiest way to transport the machine, and the fully-enclosed drum is the best option for containing the mess. This is unparalleled productivity for drain cleaning professionals like never seen before!"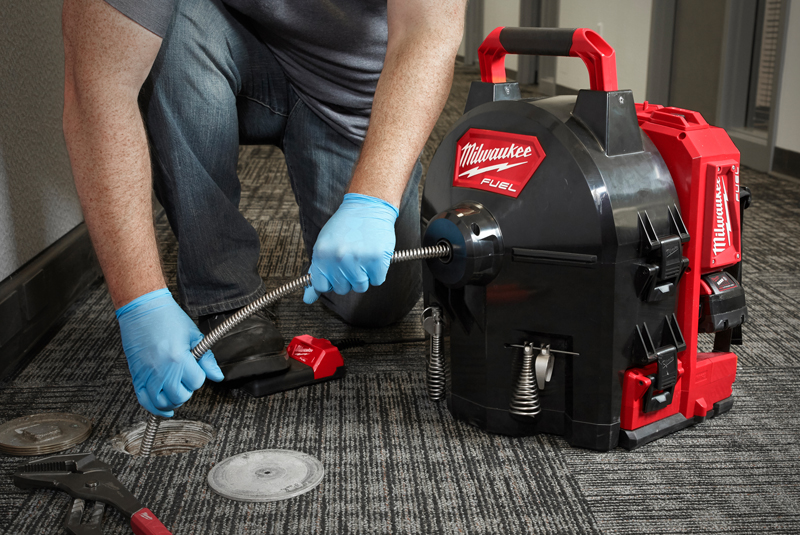 The modular design of the M18 FUEL SWITCH PACK utilises backpack straps for ease of transport to any roof, drain, crawl space, or cleanout. The tool-free drum connection allows users to quickly interchange between cable sizes, or add a second drum to reach a length of 30 m. SWITCH PACK drums are fully enclosed to provide the best protection and containment of the mess.
"Drain Cleaning hasn't experienced much change or utilisation of newer technology, only incremental improvements to current products. This industry is about to see a massive upgrade in underlying technologies as Milwaukee enters this category with the same passion for disruptive innovation that's made us a leader within the power tool industry. Milwaukee's entire lineup will cut the cord all together, bringing the last decade's most disruptive technology to the drain cleaning market with lithium-ion batteries and brushless motors," continued Bela.
"By tying a brushless motor to our most capable electronics package and advanced lithium-ion batteries, the M18 FUEL SWITCH PACK Freestanding Drain Cleaner not only improves the overall draining cleaning experience, but does so through the benefits of a cordless platform that is compatible with a wide assortment of tools maintenance professionals already use."
The System combines the POWERSTATE brushless motor, REDLITHIUM-ION battery pack and REDLINK PLUS intelligence.
Specifications
M18 FUEL Freestanding Drain Cleaner – 10 mm (M18 FFSDC10-0)
No load speed : 0 – 250 rpm
Max. drain diameter : 75 mm
Spiral diameter : 10 mm
Cable length : 15 m
(1) backpack assembly
(1) drum assembly
(1) 10 mm x 15 m cable coupling end (48532773)
5pc attachment set (48532790)
M18 FUEL Freestanding Drain Cleaner – 16 mm (M18 FFSDC16-502)
No load speed : 0 – 250 rpm
Max. drain diameter : 75 mm
Spiral diameter : 16 mm
Cable length : 15 m
(1) backpack assembly
(2) drum assembly
(2) 16 mm x 15 m cable coupling end (48532775)
(2) M18 5.0Ah B
5pc attachment set (48532790)
For more information, visit: www.uk.milwaukeetool.eu/