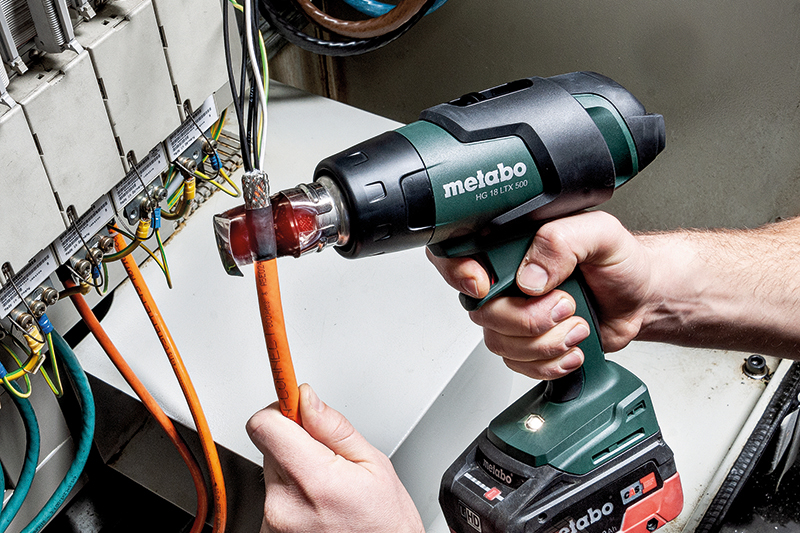 The new cordless heat gun from Metabo rapidly generates heat for a wide variety of applications.
A heat gun is a versatile machine that can be put to good use in a large number of situations. A cordless model will further enhance flexibility, allowing users to turn to this tool in almost any location.
The new mobile heat gun from Metabo – which the company calls HG 18 LTX 500 – provides  the energy needed to produce high levels of heat far away from a power outlet, utilising a powerful 18 Volt battery pack. From this power source the compact tool generates an operating temperature of up to 500°C.
"It is one thing that the machine heats. It is important that the temperature is output in a fast manner," says Metabo Product Manager Johannes Steeb. Metabo says its new heat gun does this in less than five seconds.
Heat button
With an air flow of up to 200l/min, the HG 18 LTX 500 is suited, for example, for shrinking cables, welding and remoulding plastic, as well as foiling or the removal of paint and adhesive residue.
The tool is operated via one push button, designed to be easy and intuitive for all users. At a weight of 1.6kg, including Metabo's LiHD battery pack, it is similar to many cordless power tools. And being battery powered, even hard-to-reach spots far away from power outlets are no problem.
Two settings, many nozzles
The mobile heat gun offers two temperature settings: 300 and 500°C. For optimal power output, Metabo recommends using its 18 Volt battery pack with a capacity of 8.0 Ampere hours (Ah). This battery is part of the cross-manufacturer battery pack 'Cordless Alliance System (CAS)'. Within CAS more than 160 machines and devices from 17 manufacturers are compatible with each other and can be combined at will.
The heat gun can be used with a wide variety of nozzles including a wide jet nozzle for drying and paint removal, wrap around nozzle for crimping, or welding nozzle for welding of plastics. The HG 18 LTX 500 is compatible with all available Metabo accessory nozzles.