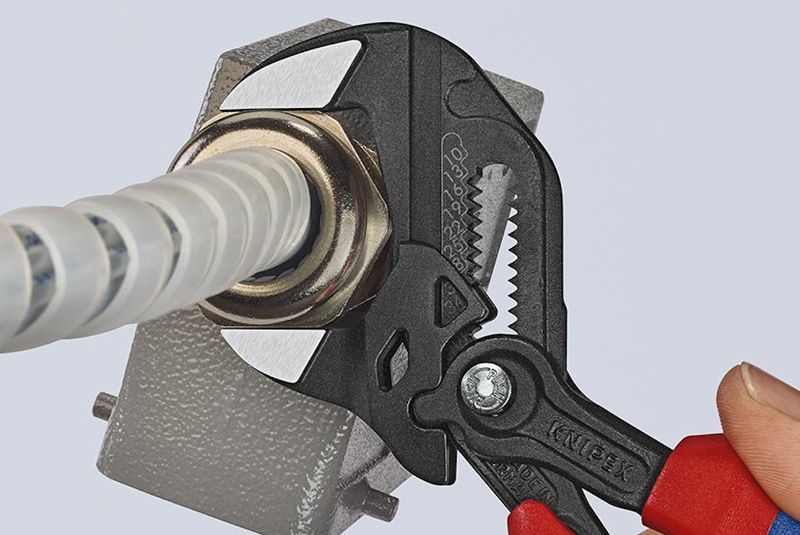 Knipex has launched a new version of its popular Pliers Wrench in a slimmer 180mm length (86 01 180), with narrow gripping jaws – perfect for tightening in confined spaces.
The new Pliers Wrench is said to be even easier to use thanks to considerably reduced weight, fluted handle and a slim jaw profile with undercut. Other new features include:
*10% less weight but with the same stability
*Laser-cut scales means the pliers can be preset before gripping
*Increased gripping capacity – two additional setting positions now up to 40mm
*Different finishes – 01 is black atramentized with non-slip plastic coating, 02 black atramentized with multi-component grips
The Knipex Pliers Wrench range replaces the need for sets of metric and imperial spanners. Its smooth jaws allow for damage free installation of plated fittings – which means you can work directly on chrome.
The pliers are also designed for excellent gripping, holding, pressing and bending of workpieces. By simply pushing the button, users can make an adjustment on the workpiece. The zero backlash jaw pressure prevents damage to edges of sensitive components.
Its parallel jaws give a more solid grip with a reliable catching of the hinge bolt so there is no unintentional shifting. The ratchet type principle allows quick and easy tightening and release of all bolted connections. Its lever transmission is greater than 10:1 for a very strong gripping power.