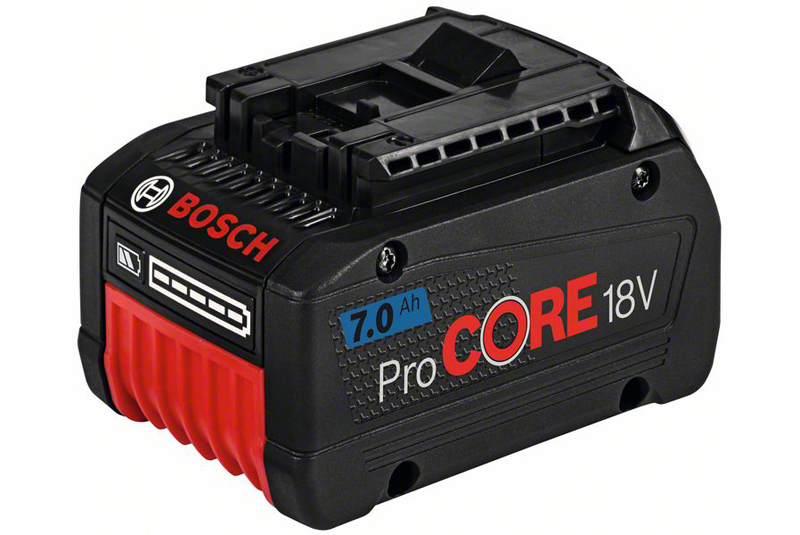 "More power than ever before, in an especially compact size," says Bosch Professional, as it brings a new dimension to the use of cordless tools with the ProCore 18V 7.0 Ah high-performance battery. The ProCore is said to offer approximately 90% more power than the previous 18 volt 6.0 Ah battery.
Two examples are:
When drilling with a 32 millimetre-diameter spade bit in softwood, the GSB 18V-85 C Professional cordless combi drill produces 50% more holes per battery charge when fitted with the ProCore 18V 7.0 Ah instead of the previous 18 volt 6.0 Ah battery.
On the GBH 18V-26 F Professional cordless rotary hammer, the high-performance battery achieves a 75% increase in drilling depth at a diameter of 25mm in C30/37 concrete.
This significant power increase is thanks to an improved cell design and measures taken to minimise internal resistances. At the same time, the ProCore 18V 7.0 Ah is compact, with approximately 30% smaller dimensions than comparable high-performance batteries. These qualities mean it offers the highest energy density in its class.
CoolPack technology
Bosch has optimised its proven CoolPack technology, meaning that the battery can handle higher power demand over a longer period.
Overall, the CoolPack technology also helps to substantially prolong the battery's lifetime compared to a conventional battery. Heat dissipation from the inside out is maximised in this technology by the synergy between several components; the housing and the heat sinks in the interior, which encases each individual cell, are manufactured from high-density polyethylene.
Both the material and the special design, aimed at maximising the surface area, facilitate better heat dissipation. In addition, the battery is designed without any internal spacing, which ensures the heat it produces is not caught in the interior. Improved cell connectors made from copper provides lower resistances and more power as a result. The battery pack has special openings for heat dissipation during the charging process as well. This cooling feature means that the battery can be charged very quickly. The five-level LED display allows tradespeople to keep the charge level of the ProCore 18V 7.0 Ah under control at all times.
Fully compatible
The ProCore 18V 7.0 Ah battery is part of the "Flexible Power System" from Bosch. The advantage of this system? Tradespeople who buy a battery from Bosch can use it immediately without having to worry about whether it is compatible. The "Flexible Power System" guarantees compatibility with all new and existing professional power tools and chargers within the same voltage class. That means greater productivity for professionals in everyday working situations.