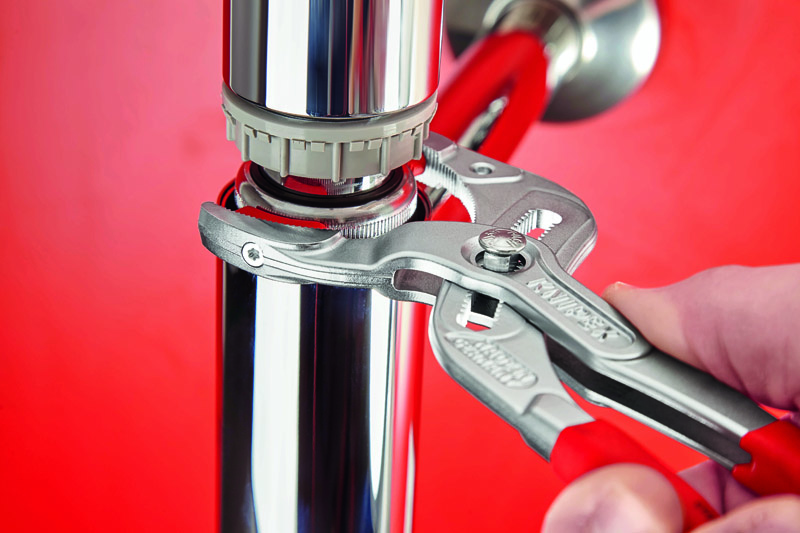 Alex Garami, UK Sales Director for Knipex, takes a look at the company's range of tools designed for plumbers to tackle tricky everyday issues.
It's a tough job being a plumber. Burst pipes, blocked toilets, small spaces, long hours – the list is almost endless. So anything that makes life on site easier is a welcome breath of fresh air.
At the HQ of pliers' specialist Knipex, innovation is abundant. For over 135 years the company has been manufacturing top quality pliers and it is the company mission to make work more effective, easier and safer for its users. Plumbers now have more choice of tools than ever before and there are some sector-specific and ingenious tools that make every day issues such as crawling into tight spaces, no on-site parking, working alone and possible injuries easier to tackle.
Lose the keys
When you want to access standard cabinets and shut-off systems, just reach for the Knipex TwinKey to open them – it fits all common locking systems.
This lightweight, small, multifunctional key has eight arms: two 4-way spider keys connected with a powerful magnet to save space. A reversible bit is joined to the key by a stainless steel wire. The TwinKey allows you access to cabinets, lockers, cupboards and can be used when controlling heating and ventilation systems, air conditioning or gas and water supply and shut off valves. It's a challenge to find something it can't open!
It's a tough little tool designed to meet the highest demands. Pop it on your tool belt and waste no more time searching for keys – this handy little TwinKey does it all.
Get a grip
For great gripping, holding, pressing and bending with no damage to components and no unintentional shifting, welcome the range of Knipex Pliers Wrenches to your toolbox.
The smooth jaws grip with a high degree of pressure, allowing you to easily tighten locknuts, exert pressure to activate contact adhesives, snap cable ties and use the pliers as a small vice. Unlike a conventional wrench, where the jaw edge pressure can cause surface damage, the zero backlash jaw pressure on the Knipex pliers wrench means there is no damage to surface edges, allowing damage-free installation of plated fittings and no impairment to sensitive mechanisms.
Tightening can be adjusted at the push of a button and there is no need to lug a heavy toolbox packed with metric and imperial spanners as the pliers wrench cover all – particularly useful if there is no parking on site.
One of the major problems plumbers face is musculoskeletal injuries. Using non power tools means your joints take all the strain and it can be difficult to hold a tool correctly, particularly when confined in a tight space. The pliers wrench range has this sorted. The lever transmission is greater than 10:1 so less force is needed to grip effectively, reducing the chances of injury. Model 86 43 250 has a 15° angled pliers handle for even easier gripping in awkward places, reducing the risk of knuckle injuries and pocket sized model 86 03 125 is ideal for working in confined areas. Several models also come in a 'Tethered Tool' version to prevent tools falling from height, damaging flooring or work surfaces or injuring people or animals.
Powerful jaws
Raptor Multiple Slip Joint Spanner makes light work of tightening or removing rusty or thick coated bolted connections even when there are no surfaces to reliably grip. The Raptor's ratchet action and powerful gripping jaws are ideal for metric and imperial nuts and screws with widths from 10 to 32 mm (3/8 up to 1 1/4in).
Injury prevention and ease of use take high priority with the Raptor. A guard prevents the operator's fingers being pinched and the comfortable handle width means you are less likely to develop a strain or injury from use while the push button adjustment on the workpiece is possible with just one hand. The Raptor Multiple Slip Joint Spanner also replaces the need for a whole set of wrenches, keeping your toolbox lighter and easier to manage.
Pliers: tough but gentle
When it's time to get to work on siphons, tube fittings, connectors and filter cartridges up to 80mm diameter, the Knipex Siphon and Connector pliers are the perfect tools. This robust range can tighten and loosen siphon screw connections, plastic pipe fittings and round union nuts for connectors and couplings with a screw connection. The pliers are also ideal for gently loosening hoses on nozzles and tool for gentle gripping of filter cartridges that require cleaning or replacement.
The innovative design of the Siphon and Connector pliers has been carefully considered. Adjustable to 25 positions to reach the ideal size, the box-joint design ensures the pliers can tackle a range of diameters.
There will always be blocked toilets, small spaces and difficult customers: even Knipex can't solve that. But it can make working life more agreeable with its range of innovative tools.
For more information, visit www.knipex.com.