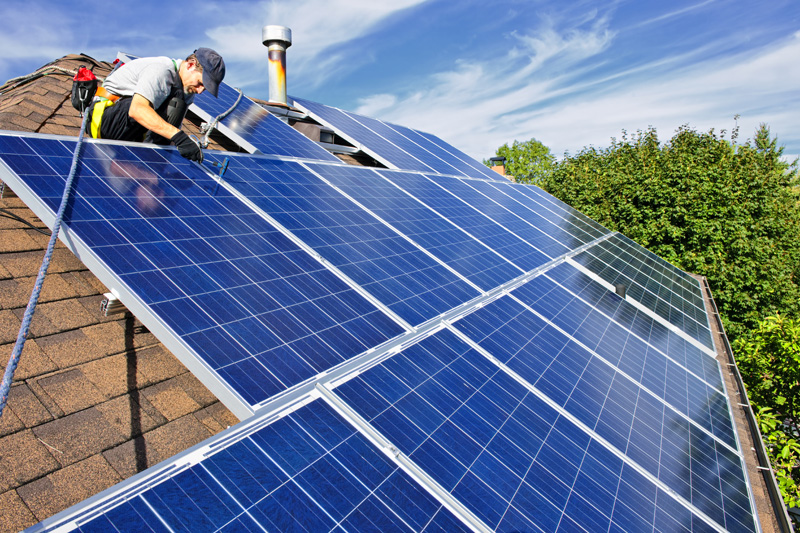 As part of a nationwide move away from fossil fuels, the government plans to phase out the installation of high carbon heating in off-grid homes during the 2020s, starting with new-builds. Mark Krull, Director of Logic4training, explores the renewable technologies that will take the helm and discusses how plumbers and heating installers can get trained up to widen their scope and 'future-proof' their skills.
Last autumn, the government launched its Clean Growth Strategy, setting out its plan for a low carbon future, promoting innovation across all sectors – from low cost, low carbon power generation through to improved building practices and the retrofitting of our housing stock to make it more energy efficient – and opening up opportunities for ambitious installers.
One of the first concrete commitments to come out of the plan is the new Boiler Plus legislation. Every year, 1.2 million new boilers are installed in England and Boiler Plus aims to improve boiler standards to save both energy and money.
Boiler Plus essentials
Introduced in April, Boiler Plus specifies that all new boilers must have an ErP rating of at least 92% and be fitted with timers and thermostats so that homeowners have more control over their fuel usage. There is also more responsibility on installers to choose and install energy-efficient gas boilers.
With energy policy changing so rapidly, it's essential that installers update and refresh their skills and knowledge. Training courses, such as Logic4training's Energy Efficiency for Domestic Heating course, are ideal for experienced installers working in domestic properties who wish to keep pace with current regulations.
Heat pumps
The Clean Growth Strategy sets out the ambitious plan to phase out the installation of fossil fuel heating in new and existing off grid homes during the 2020s, starting with new homes built to modern specifications which lend themselves well to low carbon heating technologies. Practical plans are yet to be decided upon and I'm very interested to see how the government plans to implement this. It's likely that heat pumps will play a significant part here, as well as under the Renewable Heat Incentive, which is being refocused on the uptake of low-carbon heating technologies over the course of this year.
While heat pumps are not suitable for much of Britain's older housing stock, they are a great option for modern, well-insulated homes or retrofitting during a renovation project. Ideal for rural and off-grid homes with plenty of outside space, heat pumps offer lower running costs than oil, require little maintenance and are very efficient. To put it into perspective, using the same amount of electricity as simple electrical resistance heaters, heat pumps are three to four times more efficient at heating.
Heat pump hybrids have been developed by some major boiler manufacturers that combine Air Source Heat Pump (ASHP) technology with a gas condensing boiler. These systems offer a practical and economical solution to many homes connected to the gas grid, combining high-efficiency and smart programming within existing heating infrastructure.
Experienced domestic heating installers are well-positioned to embrace this shift. The Level 3 Award in the Installation and Maintenance of Heat Pump Systems is ideal for those wishing to add ground source and/or air source heat pumps to their offering.
The hydrogen network
The gas industry has been buzzing about the potential of hydrogen to either partially or fully replace natural gas, utilising the existing gas network with only minor updates needed to our current heating systems. Hydrogen produces only water and heat when burned, so it is much more environmentally friendly than natural gas, and may offer a practical and cost-cutting solution to cutting emissions.
The engineering and design company, Arup, is currently leading a UK government study, called the Hydrogen for Heat Programme, which is expected to run until March 2021, exploring the practicalities of using zero-carbon gas in both domestic and commercial environments; it is hoped that that this will lead to a pilot project in a village or small town. Further studies are being funded by boiler manufactures and others in the gas supply chain. For gas installers, it's certainly one to watch.
Future-proof skills
The days of over reliance on fossil fuels are numbered and the path towards a renewable and sustainable future has been put into motion – there is no going back. Heating installers need to embrace the current heating revolution or risk getting left behind; a positive attitude and a little training will ensure you are ready to take advantage of the market opportunities presented by a low carbon future.
Logic4training has just launched its latest guide, 'A Future-Proof Installer – a guide to a green and profitable future'. For more information, visit www.logic4training.co.uk.