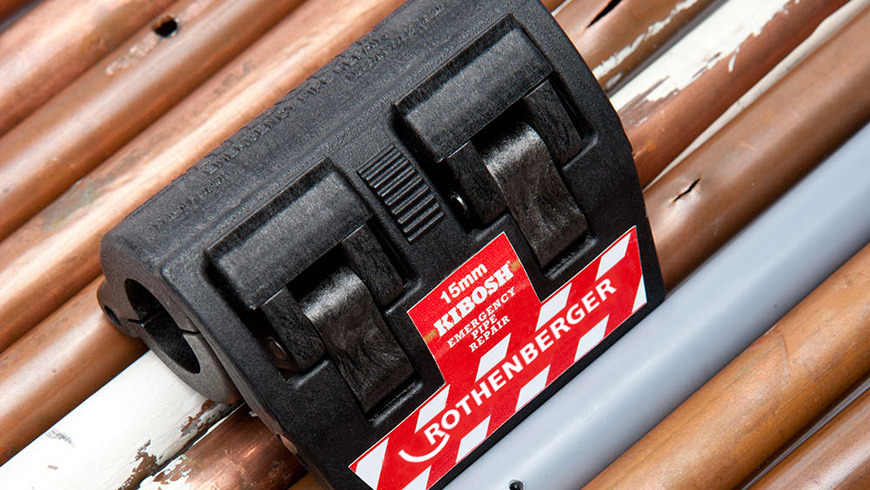 PHPI reports on developments to the Kibosh range.
Following its launch in March 2012 (as featured in PHPI), the Kibosh emergency pipe repair clamp is reported to have received successful feedback from users – with time saving, damage limitation and ease of use among the factors cited. Following on from the 15mm device, a 22mm version was released in 2013. In the same year, Kibosh picked up "The Good Design Award" in the Australian International Design Awards.
To increase awareness of the Kibosh and its benefits, Rothenberger has been running a competition at exhibitions to demonstrate how quick the Kibosh is to fit. A live demo unit was made with 15 and 22mm burst pipes. The fastest time recorded so far is 1.9 seconds, with even first time users setting times under 10 seconds.
Rofrost Rapid
The Rofrost Rapid pipe freezing kit was launched in July. Kibosh clamps have been modified to include a small hole for Quick Freeze Gas to be inserted. The design of the Rofrost Rapid is said to be up to 50% faster and uses 50% less gas than alternative products to create and maintain an ice plug within the pipe.
Across the pond
Rothenberger Kibosh Repair and freezing clamps have now also been taken to Rothenberger USA. Brian Allison, General Manager Rothenberger USA, says: "The Kibosh offers an immediate solution for an urgent situation. With its quick lock design, full perimeter seal and the cavity to accommodate fittings and bursts, Kibosh is the best reusable solution on the market. The Rofrost Rapid is the must have new freezing solution because of how quickly it can form an ice plug and how little Quick Freeze spray it takes to achieve this."