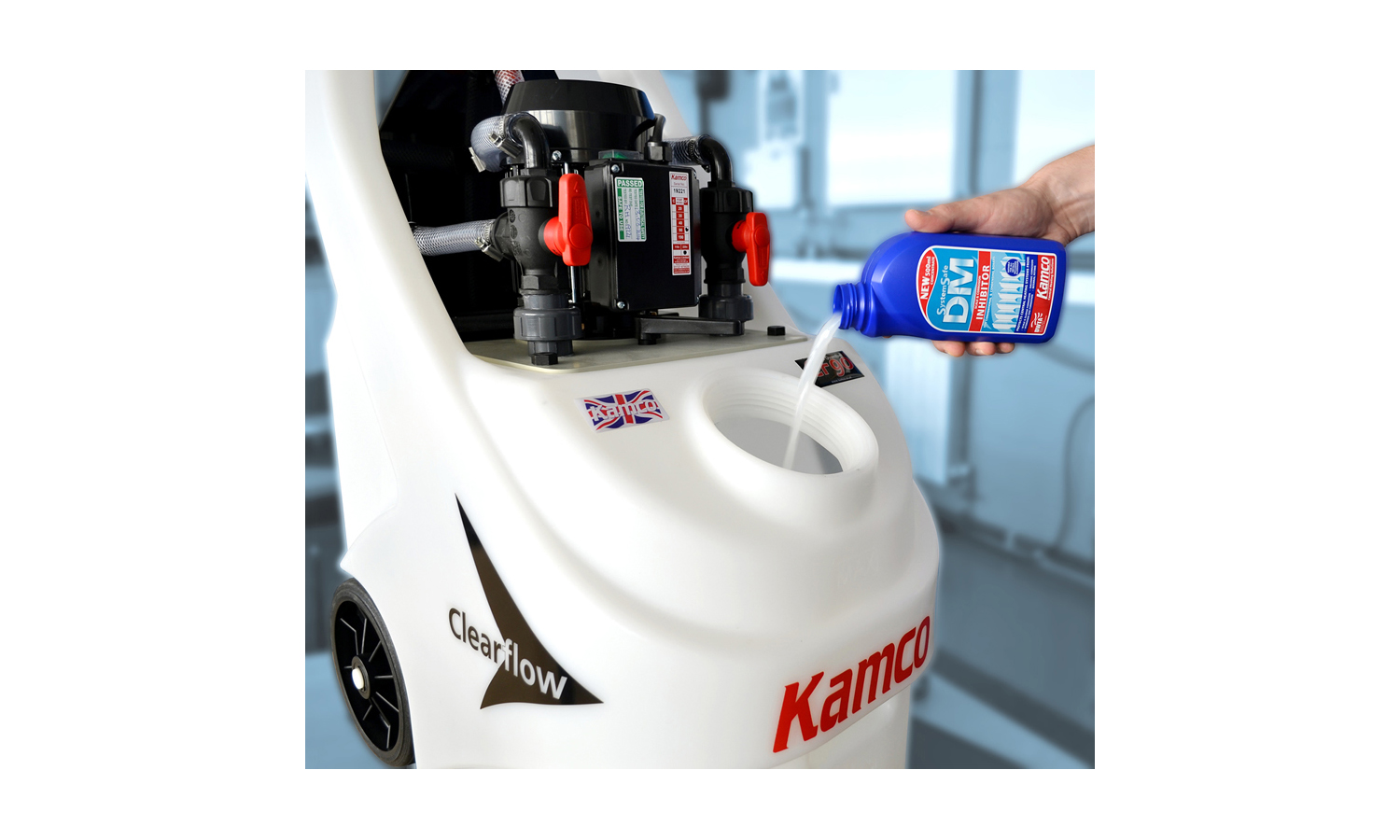 PHPI reports on Kamco's latest product developments.
New from Kamco is the SystemSure Concentrates range of water treatment products; Systemsafe-DM corrosion inhibitor, Hyper-Flush neutral flushing chemical, and Concentrate versions of System-Hush and System Pre-Clean.
These new products are supplied in compact, eye-catching blue 500ml packs and have been re-formulated to give better performance than existing 1 litre packs. The smaller packs take up less van and shelf space, and save on packaging and transport costs.
SystemSafe-DM Concentrate – what's the difference?
When inhibitors are developed and tested, metallic corrosion coupons are used to evaluate the degree of protection that an inhibitor gives. These coupons are new, with clean, unmarked surfaces, but radiator interior surfaces no longer look like rolled steel or aluminium once they have been in service for a few years. Instead, they often have general areas of corrosion, corrugated surfaces and even deep corrosion pits which may contain a residue of corrosion debris. Power flushing with powerful chemicals can clean systems dramatically, restoring circulation and efficiency to older systems, but it cannot undo the ravages of corrosion which occur as system metals decay.
Our chemists were given the challenge of developing a special type of corrosion inhibitor that would not only maintain clean surfaces in 'as new' condition but would also work with surfaces that had already suffered from generalised corrosion and shallow pitting. The inhibitor needed to penetrate and work under any residues of corrosion in pitted areas to shield surfaces from further attack.
The result was a complex blend of components which provides a higher level of protection than that of standard inhibitors. SystemSafe-DM Concentrate gives several levels of inhibition, and includes components which 'compete' with chloride ions in existing pitting, displacing them and forming an inert protective layer to halt the corrosion process.  It also provides excellent protection when a system has been filled with artificially softened water.
SystemSafe-DM Concentrate has passed the Buildcert/DWTA performance standard required by Building Regulations.
Proper corrosion control
For an inhibitor to work effectively, it is essential to both thoroughly clean existing systems and to pre-commission clean new systems to ensure that all metal surfaces are available for complete contact with the corrosion inhibitor.
Kamco's answer to this is Hyper-Flush Concentrate, a high performance power flushing chemical that is also able to remove accumulated corrosion debris and light scale from heating systems during normal operation. It works at a near neutral pH, there is no "gassing" during cleaning and no need to bleed radiators during the process.
For new central heating systems, System Pre-Clean Concentrate removes installation debris and residues of solder fluxes, jointing compounds, copper swarf, oil, grease and even casting sand from within boiler heat exchangers. These undesirable contaminants are often the cause of serious problems within the heating system, but a hot water flush of a heating system without an effective pre-commission cleaner is unlikely to neutralise and remove them, leading to future heating problems.
Some heating systems can be susceptible to noise problems as a result of baked-on corrosion and limescale deposits on boiler heat exchangers. Whilst power flushing may cure this, on some systems it may be an ongoing problem. The addition of new System-Hush Concentrate, together with SystemSafe-DM Concentrate, is recommended to cleanse the heat exchanger during normal system operation.  System-Hush Concentrate may be left in the system without draining.
All SystemSure Concentrate products may be used with all metals used in heating systems, including steel, cast iron, brass, copper, aluminium and stainless steel, and a 500ml pack is sufficient to treat a system with up to 12 radiators.