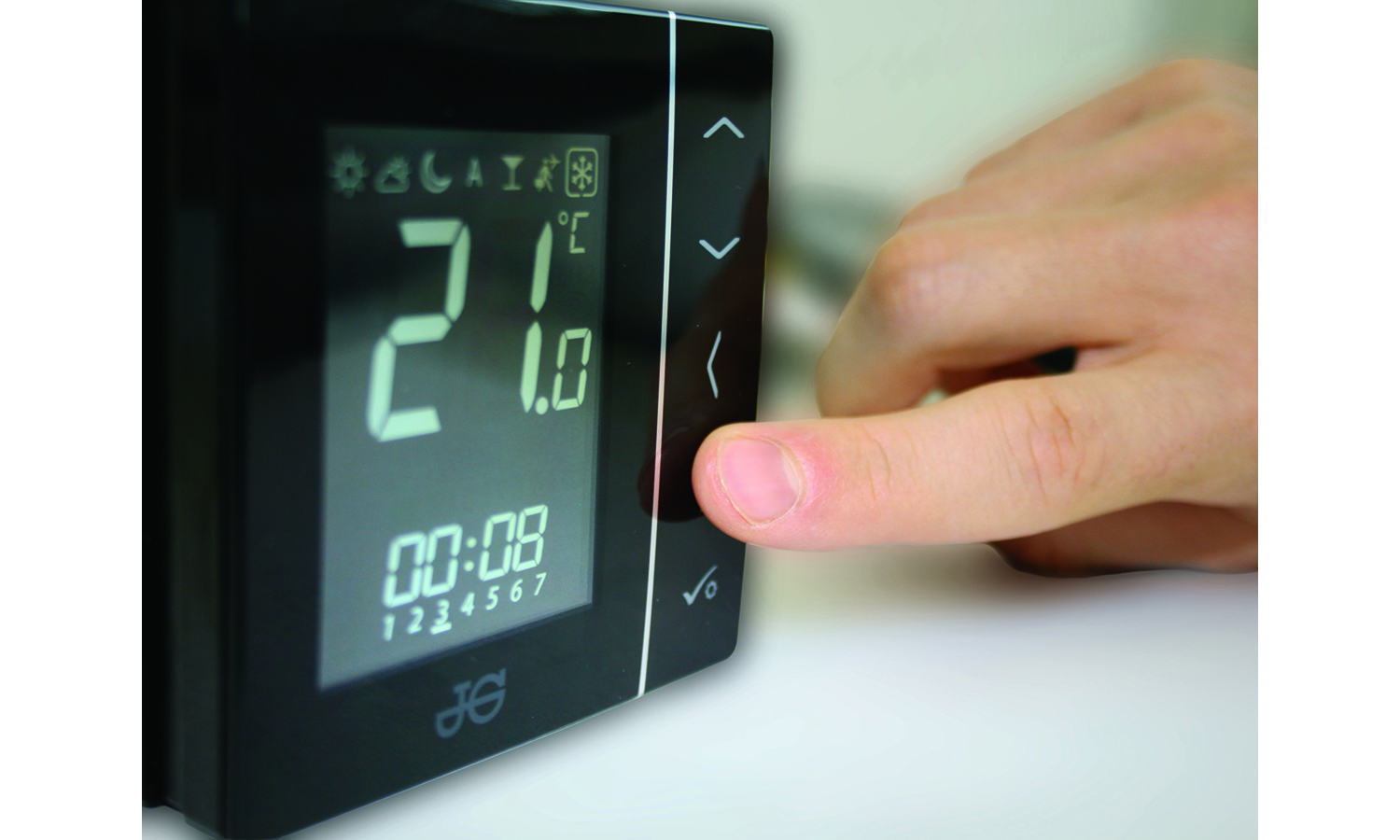 PHPI reports on the launch of JG Speedfit's new wireless thermostat range – JG Aura. 
In an age where we are urged to conserve fuel and power heating control technology has often failed to keep pace with these demands, but it's precisely in the way we use heating that the potential efficiency savings now have to be realised.
The new JG Aura wireless thermostat range now has a range of functions which aim to do just that, including a radiator control system. Whilst the technology will manage UFH and groups of radiators wirelessly, JG Aura also goes even further in that it can control individual radiators on a room-by-room basis, allowing greater potential for energy saving. Because the boiler might be only heating two or three radiators, as opposed to 10 or more, it will then use far less energy.
For the installer, all the heating pipework is exactly the same and retrofitting is a simple matter of changing a radiator valve head for one that is normally open to one that is normally closed. Unambiguous instructions in a language with which tradesmen will be familiar has also been a guiding principle.
The new system is versatile enough to control UFH, single rooms or radiators. At the heart of the JG Aura range is the 4 in 1 thermostat that offers the simplicity and versatility of being configured as a Programmable Room Thermostat, Group Thermostat, Group Control Thermostat or a Hot water timer, as Nigel Sanger, Technical Manager at JG Speedfit, explains: "The versatility of the JG Aura Thermostat allows the user to have individual control over separate programmable room thermostats in every room, or to have the option of the convenient control of a group of thermostats from one central place."
Every aspect of the system has seen significant thought from the manufacturer. There is, for instance, the choice of a mains powered wireless thermostat which, because there's no need for batteries, provides a slimmer profile and eliminates any possibility of batteries going flat. This thermostat also has a built-in wireless signal repeater which, if needed, can help boost and maintain strong signal between distant components within the JG Aura Wireless network.
There is also a powered version of this wireless thermostat, which gives you the convenience of sitting thermostats in any room without the cost or inconvenience of running cables.
Any property can now be upgraded as you can now mix and match the mains or battery powered wireless thermostats to suit individual requirements.
The increased functionality doesn't end there, however. "There are, of course, a lot of wireless systems already in existence, but they are only wireless as far as the thermostat can only communicate with the wiring system," continues Nigel. "By contrast, the JG Aura Wireless range can wirelessly control wiring centres, boiler receivers, single room receivers, and individual wireless TRVs in almost any combination. This allows for multi-zone control, which gives the possibility of a significant energy saving potential, shorter boiler firing periods and lower carbon emissions as a whole."
Pairing all of these components in a large system, which would normally include multiple thermostats, TRVs, wiring centres and a boiler receiver, might prove time-consuming, but again JG Speedfit has developed a solution. JG Aura's Co-ordinator, which about the size of a USB memory stick, scans the system and pairs everything up automatically. All that leaves the installer with is the task of simply configuring the thermostats.
The beauty of the JG Aura system is that the end user, in partnership with the installer, can determine how much or how little of these functions they choose to utilise with one system. Moreover, whilst the technology might be complex this is concealed behind an interface which is user friendly and an installation process which has been designed to be as uncomplicated as possible.