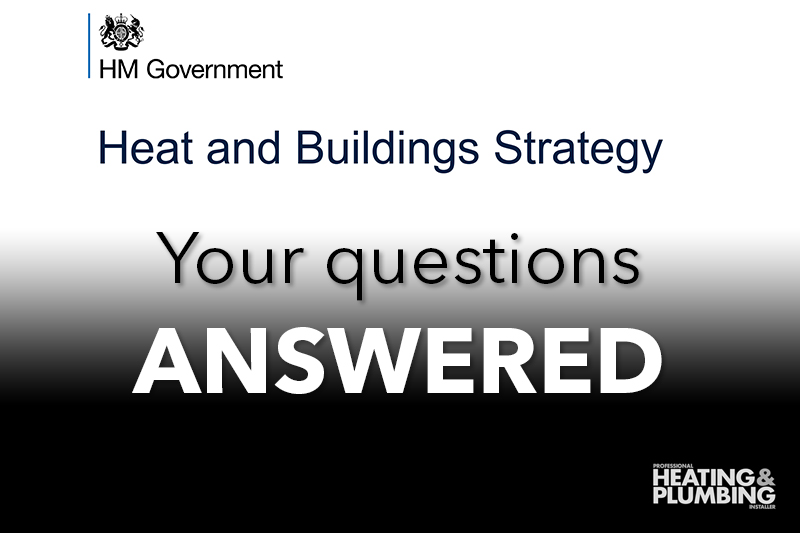 Mark Krull from LCL Awards and Logic4training answers some of the key questions installers have asked about the government's plans.
Is this the end of the road for gas boilers?
The short answer is: no! Gas boiler installation will end in new builds in 2025 when the new Part L comes in and the government announced earlier this week that it aims to phase out all new gas boiler installations by 2035 – that's 14 years' time.
We have had confirmation that under no circumstances will consumers be required to get rid of a working gas central heating system. Gas boilers have an average lifespan of 10 to 15 years so it is fair to assume they will be around for at least another 30 years, if not more, requiring regular servicing and maintenance.
The recent Heat and Building Strategy sets out plans to drive down the overall cost of heat pumps including shifting levies from electric to gas, but until cost parity is achieved, most consumers will continue to choose gas.
How will hydrogen boilers fit into the mix?
It's a case of 'watch this space' for now. Many were expecting big hydrogen announcements in the Heat and Buildings Strategy but this was not to be. Hydrogen trials will continue in towns and villages until 2026 before strategic decisions are made. The government has said that it wants hydrogen to power around 3 million homes by 2030 – in the future, it is likely that all new gas boilers will be hydrogen ready.
Boilers that run on natural gas and 100% hydrogen have been developed and could provide a simple transition to low-carbon fuels on a mass scale when the time comes. What we do know is that to meet the challenges of the future we will need a variety of fuels and technology – it is likely that hydrogen will play a part.
Will installers need to be MCS certified in order for their customers to be eligible for grants?
Yes, installers will only be able to take part in low carbon heating incentive schemes if they are MCS certified. End users need an MCS certificate to access any government subsidies or funding and some mortgage companies ask for it now too.
MCS is the mark of excellence for low-carbon installations and is something that customers will be looking for to make sure they get a top-quality installation that is worth their investment.
Will MCS be simplified so that sole traders can be competitive with huge time/cost implications?
This is a very common concern. MCS sets the bar high and becoming certified is a big commitment for installers who are already rushed off their feet.
Recently, MCS introduced a new qualification-based route to becoming certified which makes it easier for installers to get their first installation without taking on the cost of it themselves.
For those who dread the time spent in the office, MCS Made Easy is a scheme run by renewable training experts, GTEC, which aims to support installers through the certification process in the most streamlined and effective way possible – a no brainer for those taking their first plunge into MCS.
Where does this leave hybrid systems?
At the moment, hybrid systems, comprising a combination of a heat pump and fossil fuel boiler, will not be eligible for the Boiler Upgrade Scheme. The focus of the new scheme and future consultations is a Low Temperature Heat Pump first approach.
Has the government put the cart before the horse by not addressing insulation measures first?
Yes… The Green Homes Grant voucher scheme, designed to support energy efficiency insulation measures in existing housing stock (for owner occupiers), was ended in March this year. In my opinion, this should have continued, running in parallel with the Boiler Upgrade Scheme. The efficiency of a building is key to the performance and stability of an Air Source Heat Pump (ASHP).
For low income households, there is still continued support to upgrade insulation, accessed through Local Authorities. This needs to be available for all of the UK housing stock – we have some of the poorest performing houses in Europe; approximately 60% have an EPC rating of D or below, with C the target.
Is a £5,000 grant really enough to bring heat pump installation costs in line with gas boilers?
In an energy efficient home, the costs of a gas boiler compared with an ASHP starts to become comparable when you factor in fuel bill savings. As mentioned, insulation is key to overall performance.
Regardless, however; for anyone thinking of moving to an ASHP, particularly if their existing heating system is very old, £5,000 is a substantial sum that will help people make this move quicker, stimulating installer demand.
Is there a risk that we'll see questionable heat pump installation companies springing up all over the place as we did with solar PV?
That is always a risk with a scheme that is finite, as some dubious companies try to take advantage of the funding in a short space of time. That is why we need more gas installers to become familiar and comfortable installing ASHPs so the householder can seek advice from someone they know and trust, rather finding a company that has jumped on the bandwagon.
Existing heating engineers should be keeping themselves and their customers up to speed with the changing marketplace, so they can ensure business stays in the hands of experienced and trained operatives.
Do all installers within a company need to be MCS certified or can they carry out a heat pump installation and get it signed off by someone who is certified?
Under the MCS scheme, companies are certified rather than individual people. Sole traders installing heat pumps must be MCS certified, but in organisations with multiple employees, while individual installers need to be competent (usually by having attended a training course), it is the company that is MCS certified.
The MCS Contractor (company) who issues the MCS certificate must be the same company that has the contract with the customer.
The Boiler Upgrade Scheme funds are for the next three years. What happens after that?
That has not yet been decided. The consultation for the future is out now, you can read it here. This looks at a range of market mechanisms that could be used at different levels within our industry, including obligating manufacturers of gas and oil boilers to supply increasing numbers of heat pump (and other low-carbon appliances), in parallel, in-line with the trajectory towards 600,000 heat pumps per year by 2028.
They may continue with another support scheme but it is too early to say.
Will installers be required to become TrustMark accredited so that their customers can benefit from the new heat pump grant (as they were with the Green Homes Grant)?
No, sole traders or the company who the consumer has the contract with will be required to be MCS registered and meet the consumer code to: "provide a workmanship warranty for a minimum of two years, equipment guarantee, and customers will receive an insurance backed guarantee policy that covers workmanship in the event the contractor ceases to trade".
The Government Heat & Buildings Strategy response also says: "we will not require installers participating in the Boiler Upgrade Scheme to be TrustMark registered. All low carbon heating installations logged on the MCS Installation Database (MID) will continue to be automatically accessible via the TrustMark database with no further administrative work required by MCS certified installers"
Is there the option for sole traders who want to diversify into heat pumps to band together to ease the burden of MCS compliance? If so, are there any existing networks that can help with this?
This may be possible, but not that easy as certification can only be issued to one legal entity; under a co-op arrangement, it might not be clear who that is. It is likely that there would also be a number of difficulties in regards to liabilities and responsibility, leading to end-user confusion and inadequate protection for the consumer and installer alike. Schemes like MCS Made Easy make it easier for installers to independently achieve MCS certification.
Some heat pump manufacturers are able to offer this type of service to their installers, under the manufacturer MCS registration.
Is the government hedging its bets by delaying a decision on hydrogen until after the next general election?
Personally, I don't think so – there is no way to make a commitment or decision on hydrogen yet as there are still many areas that need further research and development. This R&D is being fully supported with various funded streams, so hydrogen is still a definite possibility for the future and one that has many advantages if solutions can be found for some of the deployment and production difficulties.
One of the reasons heat pumps are at the fore is because it's a mature technology that has already been proven, is readily accessible and deployable in numbers with a market mechanism in place.
I would expect hydrogen to play a part in the future and for manufacturers to start to produce 'hydrogen ready' boilers shortly. Ultimately, achieving net zero is a long game that will involve a number of different technologies and approaches to ensure success – there is no winning team when it comes to the solutions to making moving away from fossil fuels a reality.
Is there any substance behind the story that gas boiler manufacturers will be penalised by the government for not producing alternative products such as heat pumps?
Yes – in the consultation,  "A market-based mechanism for low-carbon heat", the lead proposal is an obligation in the heating appliance market (see page 11).
It says "We are proposing to introduce an obligation on the manufacturers of gas and oil boilers sold on the UK market to achieve the sale of a certain number of heat pumps proportional to their boiler sales in a given period."
This is to drive manufacturers of gas boilers to actively promote and encourage the take up of heat pumps, both by consumers and installers. Suggestions to achieve this include marketing, actively engaging in conversations with the consumer, training installers and innovative finance packages.
It is also hoped that this manufacturer drive will lead to a fall in costs (both material and install) making the transition more attractive. The consultation proposes that penalties will be introduced to manufacturers that don't meet the obligation; what these will be has not been decided yet. It also states that these penalties will extend to imported appliances and their manufacturers.