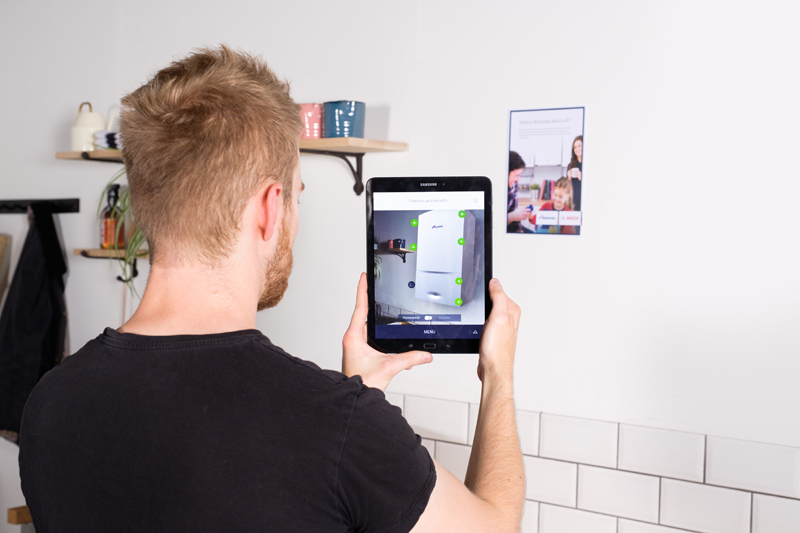 Worcester Bosch has launched a first-of-its-kind app for the heating sector which will allow installers to promote Worcester boilers to customers via augmented reality (AR).
The app will be a pre-sales tool for heating engineers, allowing them and their customers to visualise Worcester products in-situ, by showing a computer-generated boiler model in real-time at a customer's property.
The free to download AR app will be compatible with Worcester's Greenstar CDI Classic, Ri, i, and Compact boiler ranges. Using an A4 image as a marker for the product, installers can place the marker onto a wall or surface via a static stick. Installers will then be able to choose the type of boiler they would like to view and scan the marker through the app for the boiler to appear on the tablet, in-situ.
While the 3D representation of the boiler is presented in front of a customer, the installer will be able to take the case off and explore individual components in more detail. What's more, installers will also be able to move around the boiler while the marker is still within the app's frame to give customers a true reflection of its dimensions.
The computer-generated boiler model can be seen in real-time in a specific location via the app's 'life size view' option, allowing installers to view the boiler on a table or a worktop with a customer. When selecting 'features view', the installer will also be presented with a series of 'hotspots' which contain features and benefits of a particular product.
The app will be able to work without an internet connection and can create a screenshot of the boiler in-situ to be sent to the customer.
Martyn Bridges, Director of Technical Communication and Product Management at Worcester Bosch, commented: "With smartphones and tablets being an essential handheld item for most, apps have become a familiar tool for installers and customers alike. Augmented reality is a new arena for us and we are delighted to have developed this pre-sales app with the help of installers. The ability to see how it's design fits with a room's décor and available space is important for homeowners and the AR app will give heating engineers the confidence to sell products and answer any questions customers might have."
The Worcester Bosch AR app is now available to download for free via the App Store and on Google Play. To download a marker to get started with the app and for more information, visit www.worcester-bosch.co.uk/AR.