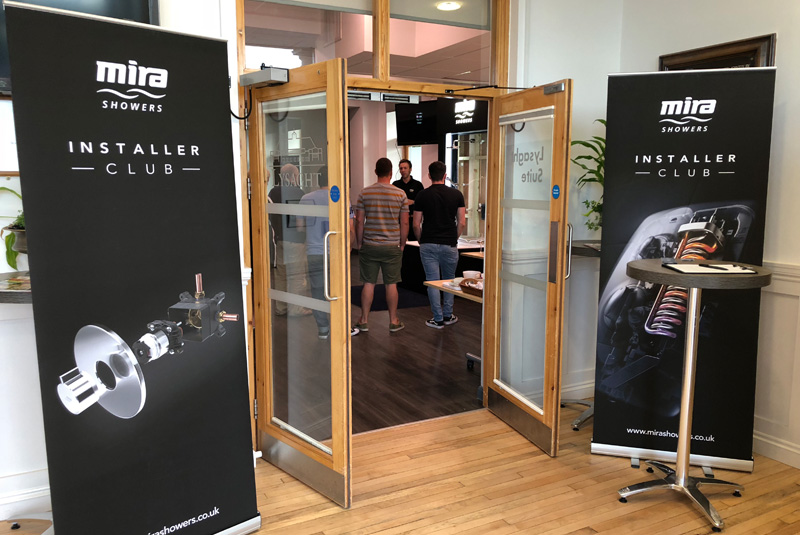 Mira Showers will be offering a range of resources and training options to give installers and apprentices the skills and product knowledge they need for the job.
Whether an installer with many years' experience, or an apprentice who is just setting out on their career, Mira has a range of tools available, including the Mira's Installer Club and Headstart initiative, Toolbox Training and the online Expert Zone.
Every year, Mira Showers welcomes engineering apprentices to the business, on a four or five-year apprenticeship. Each receiving a personalised plan, the apprentices rotate around different departments within the business, working at Mira to complement college training.
In-house training at Mira is not limited to apprentices as over 35 in-house customer service representatives are trained to be technical specialists by Mira's in-house trainers, ensuring they are up to date with the very latest products, services and initiatives.
In addition to this, over 1250 apprentices are trained every year through Mira's Headstart sessions at colleges around the country.
Since its launch in 2014, Headstart has staged over 200 training days, given out nearly 5,000 certificates to students that have completed the training, and visited around 75% of all UK colleges that offer heating, plumbing and electrician courses.
The sessions last around two and a half hours and are delivered by independent lecturers with real-life experience of working in the plumbing trade. Within the training, students can experience interactive demos of Mira products, such as retrofitting a Mira Jump Multi-Fit electric shower, as well as in-depth product training.
Headstart has also been revamped for 2018 and will now include new practical elements, more focus on digital showering and tailored to the specific level of the students.
Mira's Installer Clubs span three regions of the UK – Cheltenham, Hull and Newport – allowing its 50+ members to give feedback, as well as receive training on the latest Mira products.
Becoming a member of the Mira Installer Club allows access to the following:
Forum – a dedicated space to discuss and find out answers to showering questions, whilst offering a hub for industry professionals to network, share ideas and seek advice
Latest industry and product news
Exclusive guides and resources
Events and training
Exclusive discounts and promotions across the Mira range.
Craig Baker, Deputy Managing Director at Mira Showers, commented: "Training and personal development are key to our commitment to put people at the heart of everything we do – whether that is our own engineering apprentices, college students, installers or contractors."
To find out more about Headstart, click here.
To arrange a Toolbox Training session, e-mail toolboxtraining@mirashowers.com.
For more information on Mira's Installer Club, click here.