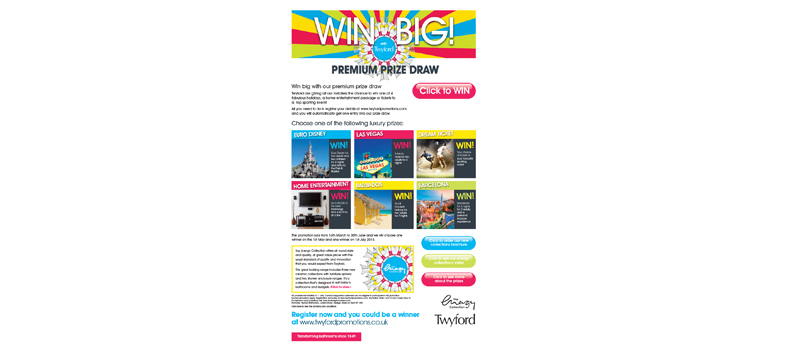 As an incentive to installers and to increase footfall to local merchants, Twyford is giving installers the chance to win a choice of six luxury prize packages worth up to £5,000 each, as well as earning £250 cash back every time they buy over £400 worth of Energy Collection products, in a national promotion launching on 17 March.
To enter the prize draw for one of six luxury prizes, which range from five star holidays to a £5,000 technology package, all installers have to do is complete a quick and easy registration form between 17 March and 30 June. Plus, each time an installer buys at least £400 worth of Energy Collection products during the same time period, they will earn £250 cash back, as well as being entered into the competition again to give them more chances to win.
Random draws will be held on 1 May and 1 July and on each date, one entry will be selected and the winner then chooses a prize from the list. The prizes, all worth up to £5,000, include a family holiday to Euro Disney, five days in Las Vegas, an all-inclusive holiday to Barbados, a technical package such as a 3D TV with iPad and Xbox, tickets for the winner and friends to a top sporting event and a five star, VIP weekend in Barcelona.
Says Sabine Mané, Head of Marketing at Twyford:
"With the various choices that installers can make, we wanted to put the Twyford brand at the forefront of their minds with a very attractive promotion that offers a genuine 'buy more, earn more' deal."
The competition and cash back promotion is being supported by an email campaign to tens of thousands of installers nationwide. Once registered, the installer will receive a 'Get Started' pack with full details of the promotion, together with brochures to give to their customers and technical details for product installation.
The cash back offer and competition entries close on Tuesday 30 June. Full details, including terms and conditions, are available at www.twyfordpromotions.com.