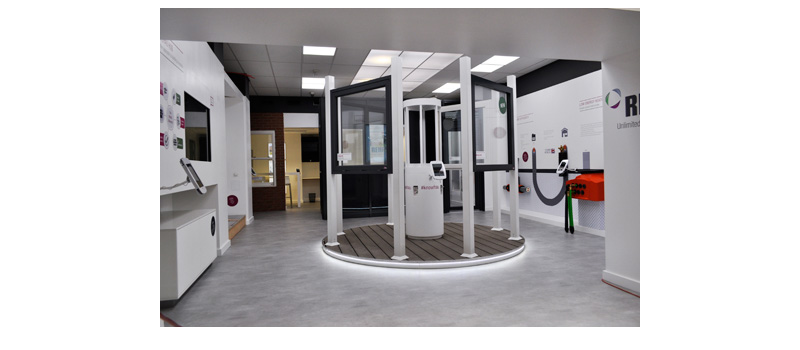 Renewables and underfloor heating specialist REHAU has officially launched its new REHAU Hub at The Building Centre, London.
On the 10th anniversary of the opening of its first small office in The Building Centre, REHAU hosted a launch party for architects, specifiers, contractors and trade customers to reveal its impressive new 82m² exhibition space, complete with extensive product displays and dedicated meeting and presentation areas.
Speaking at the event, REHAU's UK Chief Executive Martin Hitchin said: "It's now estimated that around 80% of all building projects in the UK are influenced by an individual who is based in London, so our presence here has never been more important."
He continued: "The new REHAU Hub is designed to demonstrate not only our abilities as a manufacturer of cutting edge products but also our strengths as a solutions provider and design consultant and, as such, it will benefit not only REHAU but all of our customers who work in the commercial sector."
The new REHAU Hub is a permanent display of the company's range of energy efficient building products. This includes the market leading RAUVITHERM and RAUTHERMEX district heating pipework and RAUGEO ground source solutions, as well as the extensive range of underfloor heating, chilled ceiling and Thermally Activated Building systems.
It also showcases REHAU's broader range of building products, including Passivhaus certified curtain walling systems, PVC-U and composite window and door systems and cable trunking, furniture products and even garden decking.
The REHAU Hub is a key element in the support package which REHAU offers to architects and consultants. It provides a London base for its team of specialist commercial sales managers who provide expert advice on product specification and project planning, and gives the many visitors to The Building Centre an insight into the scale and resources behind the familiar REHAU brand.
The response to the new exhibition space during the re-launch was very positive.
Rick Hutchinson from Mitsubishi Electric said: "This was my first look at some of the products which REHAU produces and sells in the UK and I was impressed by the quality and innovation on display."
Marta Strand of MKS Architects added: "I previously only knew REHAU as an underfloor heating supplier but now that I've seen the REHAU Hub, I realise that it is so much more."
Finally, Dan Caesar from the Heating and Renewables Roadshows said: "What shines through is the emphasis on sustainability which fits perfectly with the manufacturer's status as one of our 2015 Knowledge Partners."