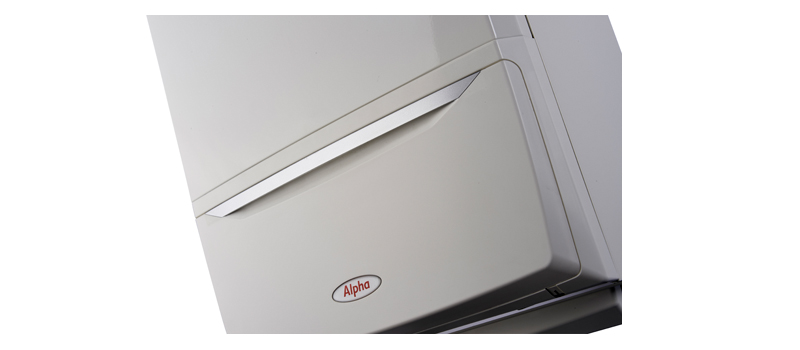 With Energy-rated Products legislation (ErP) coming into effect in September, Alpha's new InTec2 range of residential boilers have all been designed in accordance. In addition, the company's flagship combi – the InTec C – has been updated and is now fully ErP compliant.
The EU has a target to reduce energy use by 20% while increasing the share of renewable energies by 20% by 2020. ErP, which will affect all products that have an impact on energy use, including boilers and heating systems, aims to contribute to these targets being met.
There are two directives that fall under the legislation – Ecodesign and Energy Labeling. Ecodesign sets the minimum energy performance and environment criteria for these products. For Energy Labeling, manufacturers will be responsible for providing new energy labeling for products while installers will be responsible for calculating a system's efficiency to provide energy labeling for a system.
Alpha's new ErP compliant models consist of the InTec2 XE, with two output options, the InTec2 CE with three output options and the InTec2 SE with two output options.
Designed with homeowners and installers in mind, the entire InTec2 range of products are smaller and lighter than their predecessor. As such, they offer customers the option to fit them inside a standard kitchen unit, making them a popular option when space is limited.
The boilers also feature a new and improved heat exchanger, which has been designed as a one-piece casting with larger waterways and lower overall water content. It delivers faster warm-up and with better circulation is more resistant to overheating and blockages.
With advanced combustion management, the gas flow is controlled and adjusted as needed, resulting in improved energy efficiency. The gas adaptive valve also enables each boiler to work with either natural Gas or LPG. One single electrode lights the boiler and senses the flame, all the time feeding information back to the gas valve via the PCB.
The smart PCB also contains a memory chip that holds key data, including user and calibration settings that can be easily transferred to a new PCB if necessary, without having to reset the boiler. In addition, an easy to operate backlit LCD control panel provides detailed heating and hot water information.
The majority of the boilers' components that would potentially need attention during a routine service are situated at the front of the boiler so they can be accessed and, if necessary, changed more easily.  What's more, with dry-change NTCs there is no need to drain the boiler before changing them, again saving time during servicing.
Along with the new additions, as part of its ongoing innovative approach, Alpha's InTec C premium boiler, which is also now ErP compliant, has been updated to include a modulating high efficiency pump along with offering a host of 'premium' features. These include a seasonality valve, isothermic stainless steel heat exchanger and low electrical consumption. Available in two outputs, the boiler also comes with a 7-year guarantee, giving Alpha's customers further peace of mind.
For more information on Alpha Heating Innovation and its new products, visit www.alpha-innovation.co.uk.