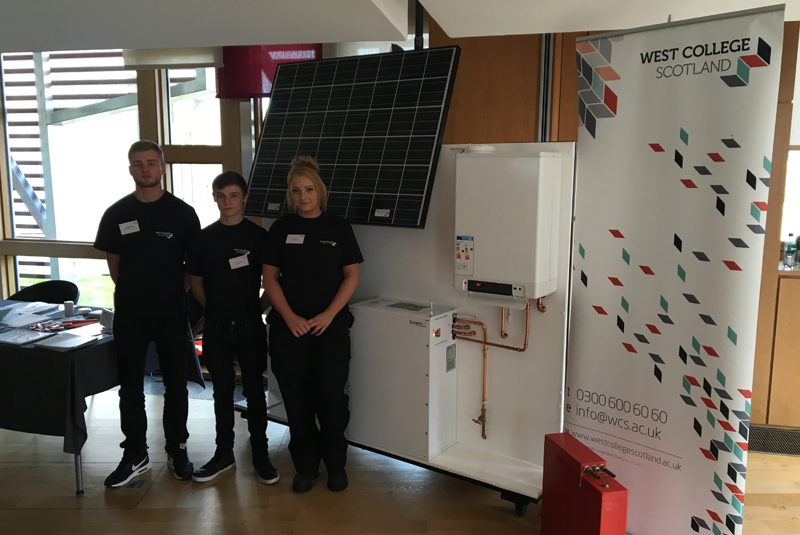 Last month at the "Colleges delivering a stronger economy and a fairer society" event, hosted by MSP James Dornan at the Scottish Parliament, staff and students from West College Scotland's Greenock campus were showcasing a recent Scottish invention: SunampPV.
Created by tech entrepreneur Andrew Bissell, SunampPV is a heat battery that can store solar PV energy to deliver hot water without the need for a hot water cylinder and immersion heater.
The students, who are currently studying for their SVQ level 3 in Domestic Plumbing and Heating (the equivalent of a level 3 NVQ in Plumbing and Heating), need to have a full understanding of the role renewables play in heating and ventilation systems, and have built a rig to demonstrate how SunampPV, with the Intergas HRE boiler, provides a low carbon solution to heating water using the electricity generated that would otherwise be exported to the National Grid.
They couldn't have chosen a better example as Bissell estimates that as much as 75% of annual domestic hot water can be provided free of charge with this type of solution. The 'self-consumption' of PV energy within the home can be raised from 30% (with PV only) to over 70% (with SunampPV).
However, it doesn't just store energy, it delivers fast-flowing hot water on-demand. It's unique in this respect as the heat battery contains an innovative material, developed with the University of Edinburgh, that enables it to store four times more energy than hot water tanks, but it's also very compact – no bigger than a cabin-sized suitcase.
Intergas's boiler adds another layer of efficiency as it condenses all the time and can take a pre-heated feed up to 85°C. When the water temperature coming from SunampPV starts to drop, the Intergas boiler progressively modulates up to maintain the desired temperature. It doesn't need a special 'solar valve' to work with SunampPV either, which is a further saving.
Harry Hunter, Curriculum and Quality Leader for Engineering at the campus, said: "The students were great ambassadors for the college and a credit to the companies they are apprenticed to. They took the time to explain how the system operated in a way that everyone could understand and now they're spreading the word further as they 'tour' with the rig to other colleges in Scotland."
They probably won't need to visit East Lothian, as some lucky East Lothian Housing Association tenants are already benefiting from the energy saving benefits of the SunampPV/Intergas collaboration. Other local authorities and housing associations are already following suit.
Intergas Heating was delighted to see its HRE boiler being used in an educational scenario and its Managing Director, Stephen Zouch, commented: "We need curious people to help us continue to deliver efficiency without forgoing comfort. Showing other students how ingenuity and simplicity can achieve outstanding outcomes is inspiring and just what our industry needs."