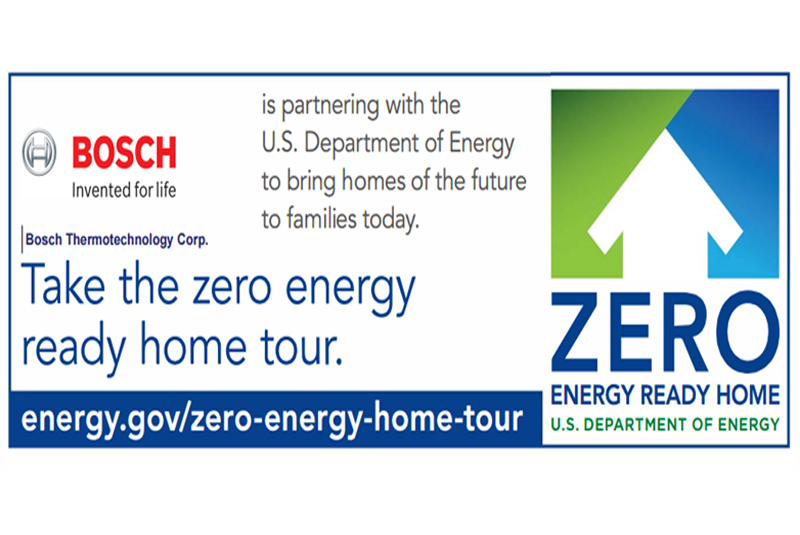 Bosch Thermotechnology Corp. has announced its participation in the Department of Energy (DOE) Zero Energy Ready Home Programme.
The DOE Zero Energy Ready Home (formerly DOE Challenge Home) represents a new level of home performance, with rigorous requirements that ensure outstanding levels of energy savings, comfort, health, and durability. The project is a compelling way to recognise builders for leadership in increasing energy efficiency, improving indoor air quality, and making homes zero energy ready.
DOE Zero Energy Ready Homes are verified by a qualified third-party and are at least 40-50% more energy efficient than a typical new home. This generally corresponds to a Home Energy Rating System (HERS) Index Score in the low- to mid-50s, depending on the size of the home and region in which it is built. The Zero Energy Ready Home is so energy efficient, most or all of its annual energy consumption can be offset with renewable energy – it is the "home of the future" right now!
"As a global producer of advanced energy-efficient heating, cooling and hot water systems, Bosch Thermotechnology is in a strong position to enable builders and developers to select a portfolio of sustainable home comfort products from one supplier," explained Mark Stimson, Key Builder Sales Manager for Bosch Thermotechnology Corp. "These products reduce homes' energy usage with the aid of innovative design, energy efficiency and "smart" Wi-Fi communicating control systems."
As a Zero Energy Ready Home Innovation Partner, Bosch Thermotechnology supplies sustainable HVAC (Heating, Ventilating and Air Conditioning) solutions with high-quality ENERGY STAR recognised heating, air conditioning and water heating systems, including tankless water heaters, boilers, and air-to-air and geothermal heat pump systems. For example, a Bosch geothermal solution combined with solar energy generation and high-efficiency appliances can deliver a zero energy home.
"The Department of Energy is proud to partner with companies such as Bosch Thermotechnology Corp. to educate homeowners on how they can get homes that leading experts would choose by simply asking builders for the Zero Energy Ready Home label," said Sam Rashkin, Chief Architect, U.S. DOE Building Technologies Office.
To learn more about the DOE programme, visit: www.energy.gov/eere/buildings/zero-energy-ready-home