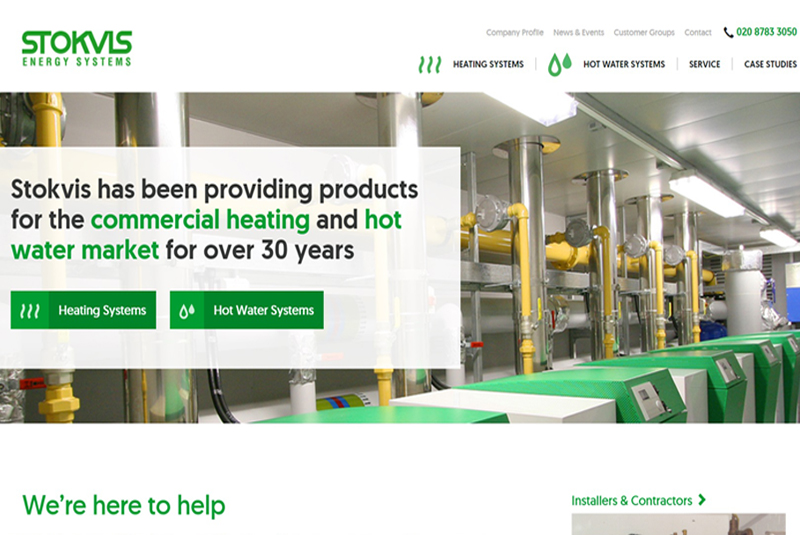 Upon opening the new Stokvis website, it soon becomes apparent that the company's online presence is as up to date as the products it manufactures.
Indeed, redesigned and said to be straightforward to navigate, the website is also mobile device friendly, being easy to access via a smartphone or tablet, even with a relatively small screen.
Open the home page and the visitor immediately has a choice of opting for the 'Heating Systems' or 'Hot Water Systems' buttons. Upon pressing the latter, for example, the surfer can access a short explanation of how Stokvis can supply a range of gas fired condensing direct flow water heaters, as well as packaged plate heat exchangers, solar thermal and other solutions.
Scroll down further and there are eight options to choose from – press the 'Commercial Water Heaters' button, and the user is quickly led to a page where Stokvis' R600 series floor-standing, direct flow water heaters are detailed along with their fully modulating, ultra-low NOx performance. There are options to download a sales brochure, request BIM drawings or receive a call back for assistance, as well as download technical data.
On the 'Heating Systems' page, which is similarly set up as the 'Commercial Water Heaters' page regarding downloads, the user can access another eight buttons to travel to Stokvis' commercial boilers, heat exchangers, heat interface units and commercial air heating ranges – plus its pressure sets, packaged plant rooms and Legacy heating products.
Stokvis' new website additionally offers the chance to view its news pages, company profile and customer groups, as well as its popular case studies profiling past successes.
For further information on Stokvis Energy Systems, visit: www.stokvisboilers.com