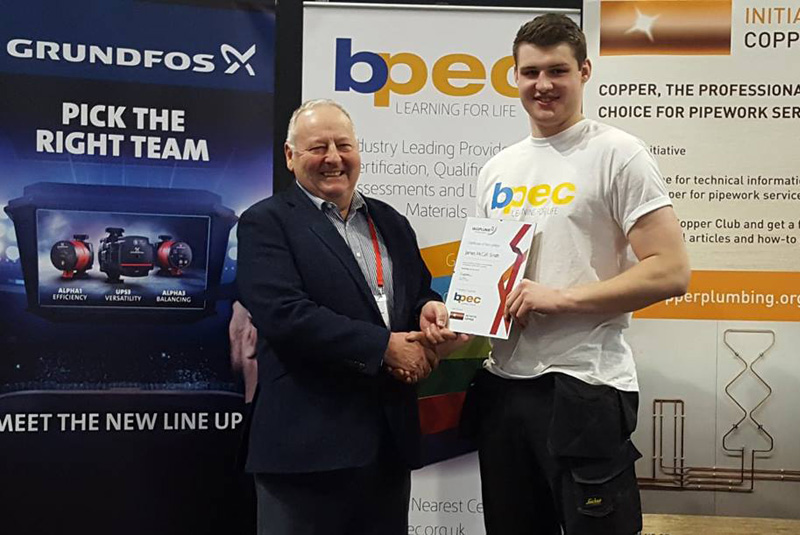 James McCall-Smith has been crowned 2018 SkillPLUMB champion after excelling in an intensive two-day practical task at WorldSkills UK LIVE.
The National Finals saw more than 500 competitors battle it out, where skillPLUMB was just one of the 70 different disciplines taking place.
James, a student from Tullos Training in Aberdeen, won the gold medal in an intensive two-day exercise which consisted of the installation of a small sealed domestic central heating system with expansion vessel and ancillary equipment, inclusive of three small bespoke radiators, an unvented hot water cylinder, a boiler mounting jig, motorised zone valves and copper pipework (22mm & 15mm).
The task was said to be marked against tough criteria including bend and joint quality, bend angles and clearance and measuring and marking out.
James will also be given the opportunity to take part in the Grundfos Installer Championship which is being held next year in Frankfurt.
Taking second place and a silver medal was Leonard Keown from South West College and third place and the bronze medal was awarded to Thomas Moys from Petroc.
There were eight finalists, who had qualified via regional heats throughout the UK, who all received a competition medallion and certificate, together with prizes including a BPEC training manual, vouchers, a goody bag from Unite, CIPHE Membership, tools and plumbing products donated by competition sponsors Monument Tools, McAlpine and Grundfos Pumps.
Speaking after his win, James said: "It's absolutely fantastic to have won, the competition was so tight and it seemed like we were all working at the same level so I'm over the moon to be named the champion. It was challenging working under pressure and with the added pressure of the spectators but I just did my best. The support from my employer, family and college was much appreciated and I'm looking forward to progressing in my career with this win under my belt."
The Copper Initiative was the premier sponsor and the event was organised by BPEC. Neil Collishaw, BPEC Deputy CEO, commented: "This year we had a superb set of tasks which really tested and challenged the eight finalists. We are very proud of all of the competitors and have been so impressed with the standard of work produced. The finalists are excellent ambassadors for the industry and fantastic role models for other young people who are considering a career in our industry."