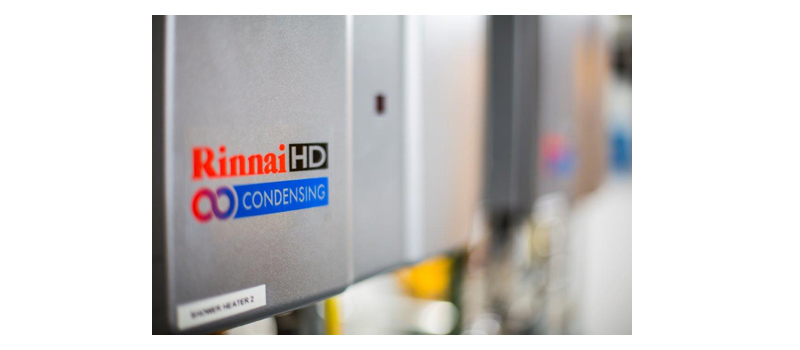 Rinnai UK's 2016 programme of training modules is designed to engage with heating engineers and contractors as specifiers increasingly turn their sights to the energy saving benefits of gas fired continuous flow water heaters.
With Rinnai now fielding the only complete and comprehensive range of highly efficient ErP labelled A-rated continuous flow water heaters on the market, from the smallest domestic model to super size industrial units, demand from engineers wanting to get to grips the appliances is growing exponentially, says the company.
Rinnai believes in making it easy for professionals to experience hands-on training with its technologically advanced products. The company is offering tailor-made, flexible courses that allow engineers the opportunity to explore, first hand, the practical and energy saving benefits of continuous flow gas fired water heaters and familiarise themselves with the technology from system design and installation through to maintenance jobs.
The hands-on training events, which are tailored to the range of customers served by Rinnai, cover both traditional and new technologies for commercial water heating and highlight the considerable energy and monetary savings that can be achieved by utilisation of a continuous flow hot water system.
Courses can be arranged to suit individual requirements either at Rinnai's Runcorn, Cheshire HQ in the dedicated training facility or if preferred, the company's training team will take the module to the workplace or other venue convenient to delegates. "For example," says Rinnai Training Specialist Ian Jenkins, "we have recently organised in-house installer training courses for British Gas, Anglesey Council, independent contractors and other public and private sector organisations in the UK and the Republic of Ireland."
The comprehensive engineer training course line-up for 2016 includes nine modules: Rinnai product overview; Continuous flow and the future of water heating; Intermediate water heater; Continuous flow – Excellence in design; Service and fault diagnostics (Water heaters); Service and fault diagnostics (Energy saver warm air units); Understanding ACOP L8 and hot water design; Maximising Renewable gain in hot water design; and, Continuous flow as a innovative method of satisfying energy and regulatory demands.
CPD Roadshow courses are also available, designed by Jenkins for M&E consultants and specifiers, design and build engineers, facilities managers and gas contractors. These courses have already attracted praise from CIBSE. For example, it says of the Continuous Flow Water Heating System Sizing and Design course in an appraisal: "The course delivers what it outlines and is well constructed."
"Our flexible training offering ensures key market personnel at all levels can benefit from nationwide training from our highly skilled team of technical experts, guaranteeing they are up to speed with changes in legislation and product developments," says Chris Goggin, Rinnai UK Associate Director.
For more details on RINNAI products, visit www.rinnaiuk.com