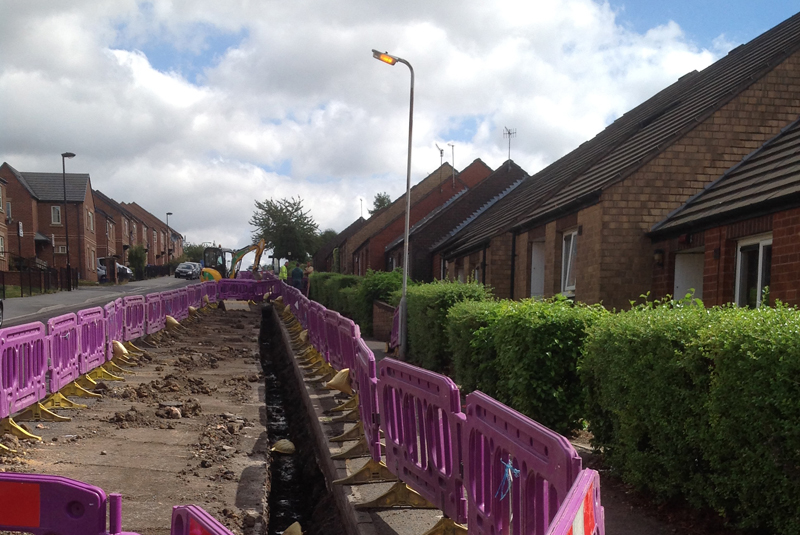 Sheffield City Council has long led the UK in its commitment to the concept of district heating, and many of its civic buildings are heated by district heating networks powered by waste energy.
The council's commitment actually goes back to the 1970s, and the pipework in some of its original networks is now in need of renewal.
In one of the first replacement projects of this kind, the original steel pipework at two social housing developments in the city has been replaced with Rehau's Rauvitherm specialist pre-insulated polymer pipework.
There had been leaks at both of these sites in recent years as the pipework had deteriorated, so the council took the decision to invest in replacement to eliminate the risk of further leaks, which are costly to repair and inconvenient for residents.
The Rauvitherm PE-Xa pipe was used because of the long term benefits of polymer over steel, including the corrosion resistance of PE-Xa and the ease and speed of installation.
Rehau's UK manufactured Rauvitherm system is supplied in continuous flexible lengths up to 330m, so there are fewer joints required; and those that are fitted use the Rehau Everloc leak free compression sleeve technology.
The Sheffield project involved the replacement of pipework in two separate networks feeding nearly 170 properties in total. On one of the projects, all of the distribution pipework from the plant room into the individual properties has been replaced, using a variety of pipe sizes from the extensive Rauvitherm range.
The installers were RJ Utility Services and the main contractors on the project were Denton and Nickels.
Further details are available at www.rehau.co.uk/districtheating