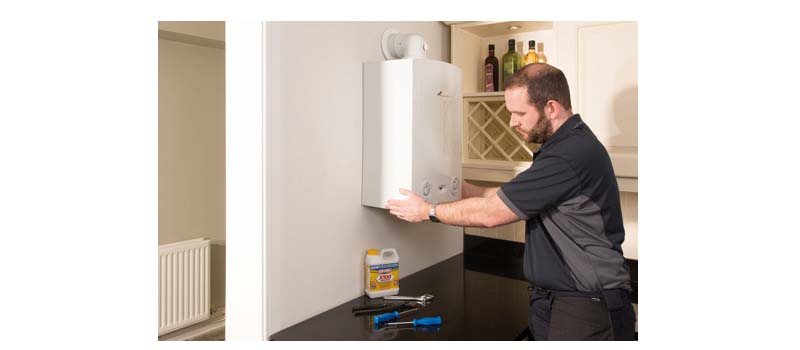 It's well documented that homeowners can save considerable sums on energy bills by opting for greener boilers. For example, the Energy Saving Trust estimates that upgrading an old D-rated boiler with a new A-rated condensing boiler could save £175 per year on energy bills.
However, according to water treatment specialist, Sentinel, it's up to installers to help ensure those savings last.
In light of the new Energy related Products Directive, which will introduce energy rating labeling by September 2015 on boilers, certain components, and systems with newly installed components, Sentinel is raising renewed awareness of the crucial role of water treatment in maintaining heating system efficiency and increasing component longevity.
Neil Davies, Trade Marketing Director at Sentinel, explained: "If a heating system isn't properly cleaned, protected and maintained with high quality water treatment, the savings offered by energy efficient boilers can quickly diminish due to problems such as sludge and limescale build-up, corrosion, potential premature parts replacement and breakdowns. So instead of saving the customer money every year, homeowners could end up hundreds, even thousands, of pounds out of pocket."
Indeed, testing and research conducted by a leading boiler manufacturer supports this statement, revealing that approximately 87% of boiler call-outs are to systems without correct water treatment.
"Boiler manufacturers recognise the importance of water treatment and most insist upon it as part of the guarantee terms and conditions. Considering that replacement parts can cost as much as £350, while the cost of a new boiler averages £1,500, it's clear that effective water treatment is in the best interests of both the homeowner and installer."
To achieve lifetime boiler protection and maintain boiler energy ratings, Sentinel advises plumbing and heating engineers to follow the best practice Sentinel System of 'clean, protect and maintain' using Sentinel's energy-saving, boiler manufacturer endorsed products, such as its X800 Fast Acting Cleaner, X100 Inhibitor – which is accredited by the Energy Saving Trust's 'Energy Efficiency Recommended' programme – Eliminator filter, and system test kits.
"Sentinel has been actively engaged in driving down home energy bills, CO2 emissions and fuel usage for almost 30 years through its work with boiler manufacturers, industry bodies, and independent research laboratories. The new boiler and system energy labeling requirements mean that highlighting the benefits of a properly cleaned and treated heating system is more important than ever.
For example, without proper water treatment, an A-rated boiler could have a true operating efficiency of a B-rated boiler – that's not what the homeowner signs up for, so it's really important that installers are aware of and promote the energy and cost-saving benefits of water treatment to their customers."
To assist installers with this task, Sentinel provides a number of sales aids designed to communicate the advantages of water treatment to homeowners. For example, its popular leaflet 'A homeowners' guide to a healthy heating system', which contains numerous persuasive facts and helpful tips, can be downloaded or ordered from the Sentinel Hub on Sentinel's website, at www.sentinelprotects.com.