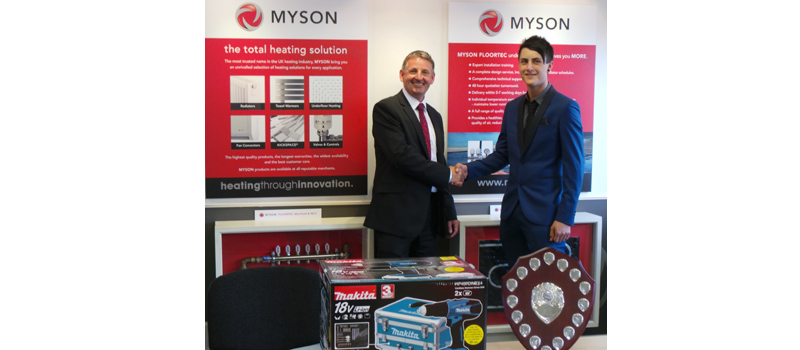 Alex Bilclough, a plumbing student at Newcastle College, has become the first winner of the Myson Young Apprentice of the Year Award.
The Myson Young Apprentice of the Year Award recognises outstanding commitment to work and study on the plumbing course at Newcastle College and was awarded to Alex for his terrific results and hard work for the John N Dunn Group.
Kelly Smith, Product Manager for Radiators, said "Alex has been a runaway success during his time at Newcastle College and the team agreed unanimously that he should be the winner of the Myson Young Apprentice of the Year Award. From scientific principals in plumbing, to central heating systems, Alex was regularly getting in excess of 90% in assessments, as well as putting his skills to good use in the work place. As a result of his outstanding results, Alex has also put himself forward to represent the North East in a skills challenge and we wish him every success."
Alex joined the Myson team at their offices in Team Valley, Gateshead, for the presentation of the award, which was made by Regional Sales Manager, Nigel Stedman. As a reward for all of Alex's hard work and dedication, Myson gave him a Makita drill and range of accessories that he can use whilst at work.
"The Myson Young Apprentice of the Year Award is a great incentive to work hard and winning it was completely unexpected," explained Alex. "Throughout my apprenticeship I've just focused on doing the best job that I can and this has been reinforced in the workplace – after all, you want to do the best possible job for customers."