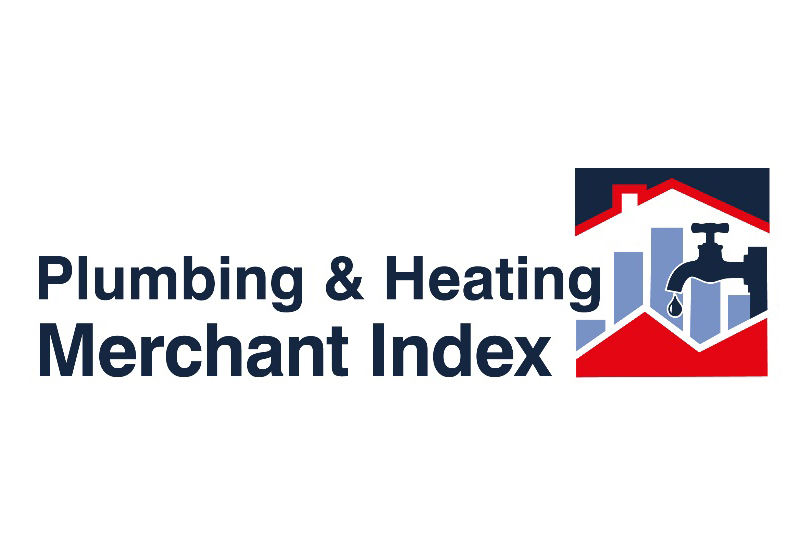 The latest figures from the Plumbing & Heating Merchant Index (PHMI) report published in July show that value sales through specialist plumbing and heating merchants in May were more than double the previous year.
Sales in the three months from March to May 2021 were 81.8% higher than the same period last year, helped by an extra trading day this year and a fully opened market. Sales were also up on the same three months of 2019 (+6.1%), with no difference in trading days.
Month-on-month, total sales were slightly below April's (-4.3%) with one less trading day in May 2021. Average sales were 0.7% higher in May.
While the data points largely to the continuation of a strong post-pandemic recovery, May 2021 sales were flat (-0.1%) against the same period in 2019, a more normal year. Average sales a day however, with two less trading days this year, were 10.4% up on May 2019.
Year to date sales (January to May 2021) were up 36.5% on the same period last year, with one less trading day, and 3% ahead on January to May 2019.
Over the last 12 months (June 2020 to May 2021), specialist plumbing and heating merchant sales were 9.6% higher than the same period a year before, with two more trading days in the most recent period.
May's PHMI Index, which contrasts sales with the base period January to December 2019, was 97.4.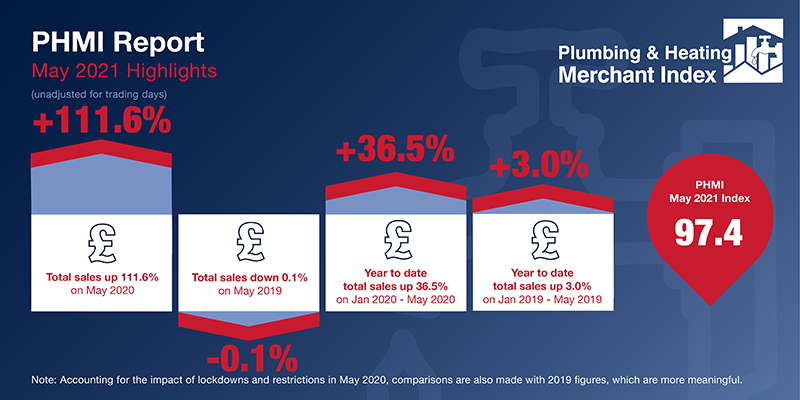 Bill Davies, Sales Director at James Hargreaves Plumbing Depot, which contributes to the PHMI, commented: "There are many good reasons for optimism in the UK plumbing and heating industry for the remainder 2021, due to the general buoyancy of the marketplace and the extension of the stamp duty holiday.
"I am confident that this year will produce record sales for merchants. James Hargreaves Plumbing Depot has already generated a 29.5% increase in turnover for the second quarter of this year compared with the same three-month period in 2019.
"Looking ahead, I anticipate a further push towards renewables (low carbon solutions) with air source heat pumps now becoming more and more an everyday request. The challenges presented by Covid-19 and Brexit have produced supply shortages across all aspects of plumbing and heating – not to mention significant prices rises – but I feel sure that the industry can prosper if businesses stay true to sound principles and philosophies."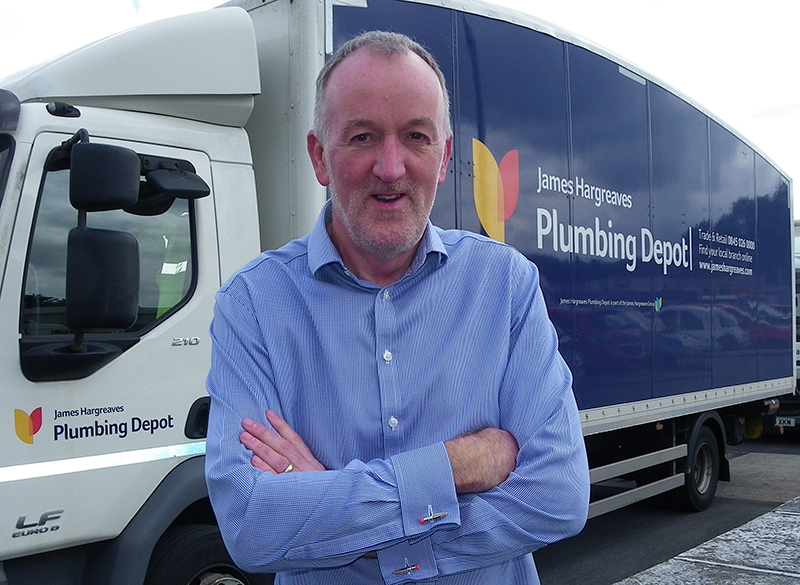 The Plumbing & Heating Merchant Index (PHMI) is the first to analyse point of sales data collated from specialist plumbing & heating merchants with combined annual sales of £3bn, to chart their performance month-to-month.
Based on data from GfK's Plumbing & Heating Merchant Panel, which represents over 80% of the market by value, the report provides reliable data and a platform and voice for the industry, as well as for leading plumbing and heating brands. It is produced by MRA Research for the Builders Merchants Federation. There is no overlap or double counting between PHMI and the Builders Merchants Building Index (BMBI) sales data.
To download the latest report, visit www.phmi.co.uk