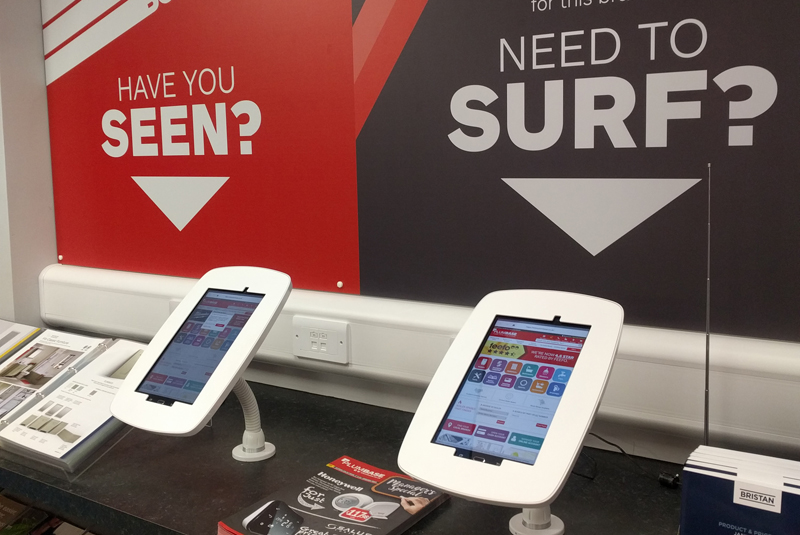 Plumbase has unveiled an innovative merchant format at its new London-based Park Royal location, with the purpose of putting the customer experience at the heart of the design.
The specially designed branch incorporates many of the features you'd expect to see in a modern retail environment, with all the benefits of Plumbase's merchanting experience and expertise combined.
Customers entering the 1,778 sq ft branch, with an additional 1,000 sq ft of stocked warehouse space, can unwind in the dedicated refreshments area before using touch screen tablets to search for items, or instead go straight to browsing the interactive product displays around the shop floor. Customers can then easily speak to the branch team and pay for purchases at the uniquely positioned trade counter, which is at the very centre of the shop floor design.
Mark Bradley, Managing Director at Plumbase, commented: "Innovation is key to thriving in a competitive market and our new Park Royal branch is an excellent example of how we are championing change to benefit our customers. The opening of the branch is a significant milestone in our plans to develop branches fit for the future and together with our vast knowledge and industry experience means that customers truly have the best of both worlds when they choose to trade with us."
George Theodossiou, Branch Manager at Plumbase Park Royal, added: "I have been working with Plumbase for over 10 years now and have seen first-hand the strides taken to better serve our customer base. I look forward to welcoming customers to this fantastic branch that offers a unique trading experience I feel London-based contractors, plumbers and heating engineers will all appreciate."
You can visit the new Plumbase Park Royal branch from 7am-5pm Monday to Friday and 8am-12pm on Saturdays at Unit 2 Hanover West Industrial Estate, Park Royal, NW10 7NB. Alternatively, Call the team on 020 8838 0199, or email [email protected]