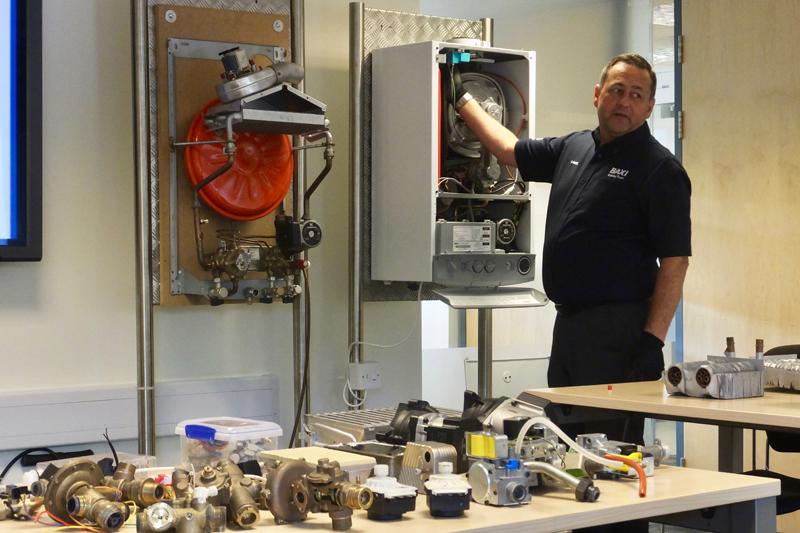 The broad range of manufacturer training courses available can make finding the right one a real challenge for time-strapped installers. Steve Owen, National Training Manager at Baxi Heating UK, lays out the five key things heating engineers should look for in a training course.
Here are five key things to consider when choosing a training course:
Industry expertise
Training courses that are delivered by accredited experts, with years of industry experience can provide added-value to the training experience. Trainers that once worked as heating engineers can relate on a personal and professional level with trainees, and share their own advice and tips to new and seasoned installers alike. Check out the biographies of trainers before you book.
Weighting of the course
Keen to get out of the classroom and onto the training floor? Take the time to check the content of the course to ensure that it meets your needs and maximises the hands-on training element. The content of courses such as those offered by Baxi Heating UK is around 80% hands-on, giving heating engineers the opportunity to spend plenty of time focused on the practical elements.
Skills boost
Developing new skillsets and building on existing knowledge should always be a priority for any installer – young or old. Courses that explore how to use a multimeter for instance, can boost a heating engineers detailed understanding of boiler diagnostics. Look at the bigger picture and choose a course that has the potential to open new doors.
Location, location, location
Choosing a training course is as much to do with time spent on the road as it is to do with the courses content. Installers who do their research before committing to a course may find that they can access expert hands-on training far closer to home than they first anticipated.
Aftercare
Installers should be mindful of choosing a course that extends beyond the physical training centre. Manufacturers are increasingly offering tailored, expert literature as well as video content that heating engineers can refer back to when they need it most. For instance, you can pick up some helpful hints and tips on social media by following #TrainingTuesdays, bringing the classroom to you while adding value to the initial training course.
trade.baxi.co.uk/trade-area/training/training-courses