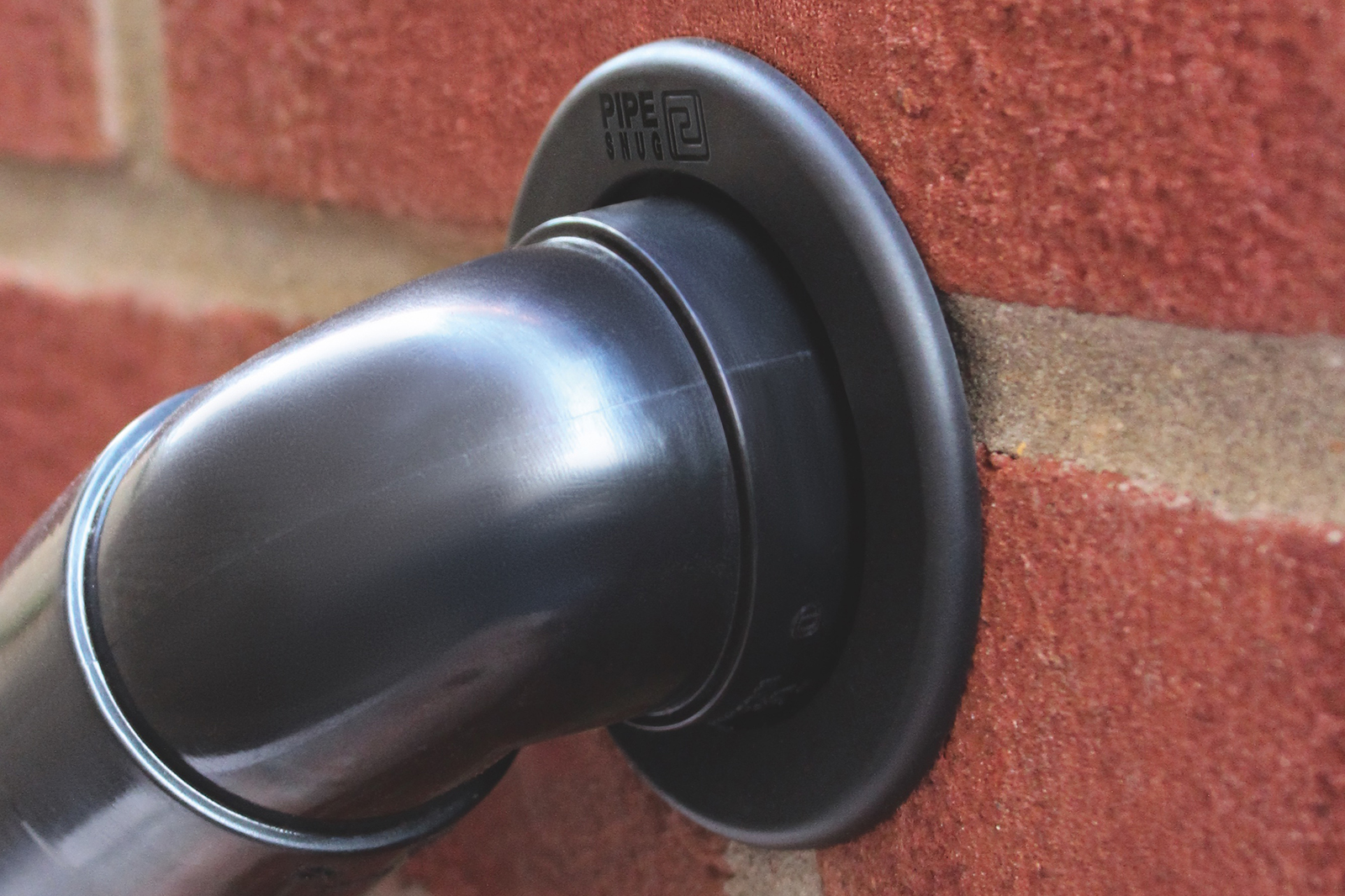 Changes to Part L of the Building Regulations came into force in December 2021, with a period of adaptation for the industry until June 2022. The changes to Part L were designed to help the UK meet its Net Zero targets and the new regulations now specify the need for pipe seals and grommets on pipe penetrations.
"The days of sealing around pipes with messy or porous mixtures and chemicals are now over," says Alex Lever, Director of PipeSnug. "Pipe seals have been mandated for a reason; to prevent warm air escaping a home and also to keep cold air out, where brickwork or the fabric of the building has been removed to allow pipework or other services in. This is a big change for those installing pipework."
Fitted in seconds, PipeSnug provides an all-in-one solution which meets Part L's requirement to seal around pipework inside and outside a building, without the need for sealant, mortar or expensive air sealing tape.
PipeSnug and FlueSnug form an airtight seal against the wall where pipes enter and exit a building. Because they do not require any mortar to be mixed or sealant to be squeezed, they not only save plumbers time, money and mess, but they also keep warmth in and energy costs down for homeowners.
"The new Part L also requires photographic evidence that the work has been carried out to the designated standard. For Local Authority Building Control officers, PipeSnug is an easily recognisable product, which does not need to be covered by tape or sealant," continues Alex.
PipeSnug is available in 32 and 40mm for solvent-weld waste pipes and fits a 52mm core drilled hole. The 110mm version fits a 152mm core drilled hole and fits all push-fit and solvent weld soil pipe fittings. The soil and waste versions are available in black, white and grey. With PipeSnug you know you can meet the Regulations easily, and it saves so much time and therefore money for building, plumbing and heating contractors too.
FlueSnug works for all 100mm boiler flues and fits a 152mm core drilled hole. It is available in black and white. It is endorsed by the major boiler manufacturers and is already being used by major housebuilders to comply with Part L.
Another added benefit of the 110mm PipeSnug and the FlueSnug is that they can be installed at height, without the need for ladders or scaffolding. That is because the products are flexible enough to be pushed through the hole meant for the pipework, saving even more time and fuss.
"PipeSnug has ambitious plans to invest and launch new versions to cover different sizes and applications in the coming months as demand rises due to the changes to Part L. We firmly believe PipeSnug will become the de facto method of sealing around service penetrations," says Alex.