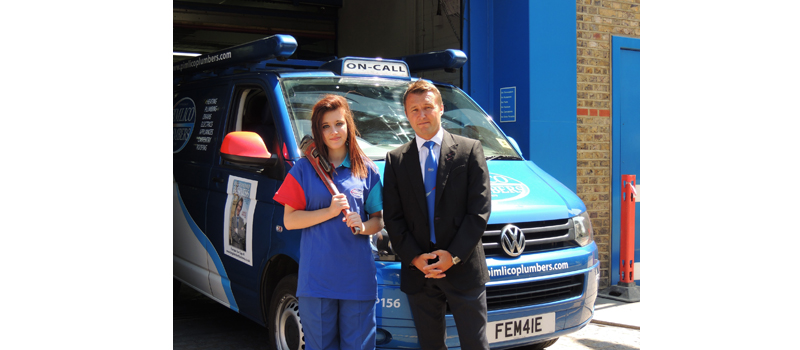 Ambitious teenager, Chloe Sayer, has secured a trade apprenticeship with the UK's leading plumbing company, Pimlico Plumbers, using the power of social media.
Chloe, 18, from Early in Reading, was chosen by the company's chief executive and founder, Charlie Mullins, after she submitted a carefully considered application via Facebook, as part of an initiative where applicants had to showcase themselves by using no more than 150 words.
The three-year apprenticeship will see Chloe join the company's team of apprentices who work alongside Pimlico's experienced engineers across the plumbing, heating, carpentry, electrical and building trades. She will also attend college on a day-release basis and work towards recognised vocational qualifications.
Every year, Pimlico is inundated with requests for apprenticeships, so once a year it offers the opportunity for applicants to make themselves really stand out by applying via social media by using the hashtag #pickmeCharlie.
Pimlico Plumbers works across the Capital and has completed work for a long list of famous faces including Helen Mirren, Hugh Lawrie and Will Young, to name a few.
It recently achieved record sales of £25m and its workforce currently stands at 270, including 65 support staff based at its depot in Lambeth.
Mr Mullins said: "Chloe will be a great addition to our apprenticeship programme; she really stood out from the crowd thanks to her enthusiasm and willingness to work hard.
"At Pimlico we are firm believers in vocational training and are pushing for a fully-funded national apprenticeship scheme – University isn't for everyone and the apprenticeship is a genuine alternative. It helps develop real industry skills, which can't be taught in a classroom."
Chloe said: "I've always wanted to learn a trade in order to develop a skill set that will always be in high demand. I love learning and taking on new challenges so I can't wait to get stuck in.
"For a while now, I have tried to gain a route into the industry but felt there wasn't the necessary support in place for females. I knew this wouldn't be a problem at Pimlico Plumbers, who encourage diversity – most recently by taking part in the #notjustforboys campaign."