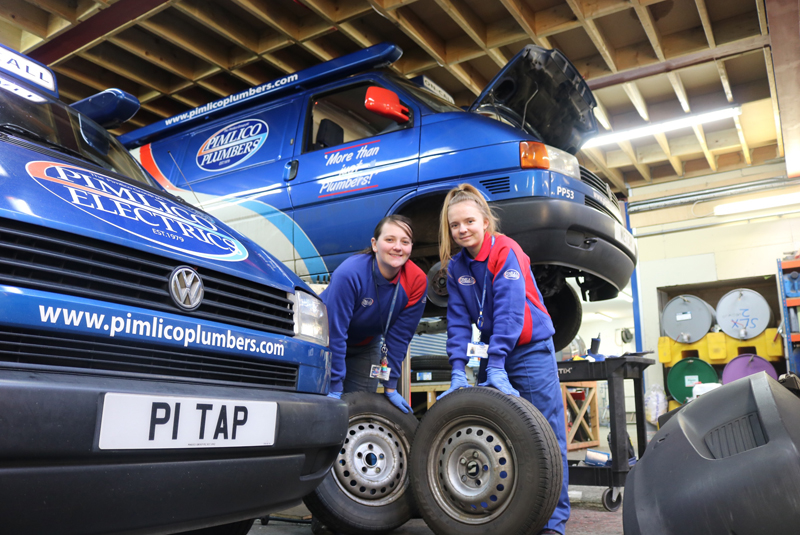 Pimlico Plumbers is aiming to create a cohort of 75 apprentices during 2018 after recruiting a further 12 young people this month.
The recruitment drive bucks the national trend for new apprenticeship starts, which saw a dramatic fall of 60% last year, which has been blamed on the introduction of the Apprenticeship Levy and a lack of understanding by businesses, according to the firm.
However, at Pimlico, the central London-based company now has 62 apprentices on its books, who are earning and learning across a range of departments within the business. In addition, a further two apprentices are scheduled to join the company at the end of January.
Among the new apprentices, who are all aged between 16 and 22, are three plumbers, a carpenter and three electricians – one of which will join Pimlico's in-house maintenance team that ensure the smooth running of Pimlico House.
The heating and plumbing apprentices start on a Level 2 programme, progressing to Level 3 with the aim of completing within four years. Electrical apprentices start at Level 3 and will also complete their training within four years.
Also working at the company's headquarters will be a body shop apprentice and a mechanic, Tayler Phelps who will be Pimlico's second female apprentice working in its garage, along with Abbie Rose, repairing and servicing its fleet of more than 250 vehicles.
Pimlico has also increased its office-based apprentices with two new recruits joining the Control Room team and a new member of the Recruitment Department.
Whilst gaining essential practical experience working alongside Pimlico's highly-skilled workforce, the apprentices will also spend one day a week at London South East College and will have their workplace activities assessed against an apprenticeship framework by the training provider.
Pimlico Plumbers, led by its founder, CEO and former apprentice Charlie Mullins, is a major supporter of apprenticeships and the benefits they bring to businesses, the economy, young people and society.
Charlie said: "Apprenticeships are undoubtedly essential to our society. They don't just offer life changing opportunities for our young people, but they also address youth delinquency, improve social mobility, and most importantly deliver on the bottom line.
"I started off as an apprentice myself, and quite honestly I never looked back. I owe everything to my apprenticeship and have always believed they should be at the heart of the country's drive to equip people with the skills employers so desperately need."
Charlie added: "I am committed to finishing 2018 with 75 apprentices and will continue to increase this number until every engineer is paired with an apprentice and, at the moment, we have more than 300 tradespeople and are recruiting a further 150 this year.
"It's a tall order, but apprenticeships give young people high-quality and respected hands-on training which is beneficial for businesses, youngsters, and ultimately the economy.
"Recent figures show a 60% drop in the number of new apprentices since the Apprenticeship Levy was introduced in April last year, which is very disappointing. Even if other businesses won't commit to helping the plight of Britain's youth, one thing is for sure, at Pimlico we will always welcome apprentices."