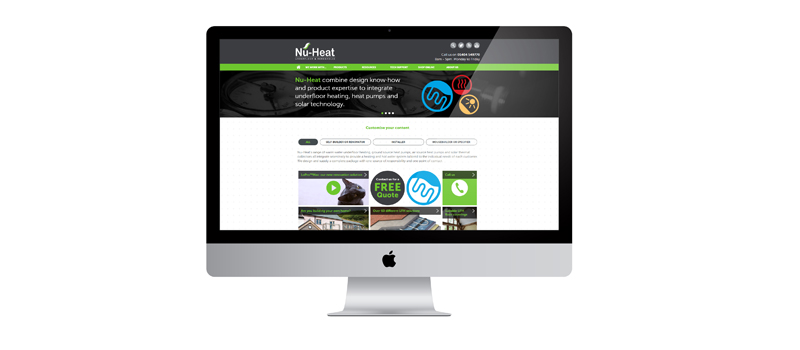 You may have noticed something different about Nu-Heat over the last few months, starting with a revamped logo and bolder colours relating to various product ranges. That's because the company has undergone a complete rebrand, climaxing in the launch of its new-look website.
"The website has become a very important tool for Nu-Heat. In the last year we've seen a huge rise in the number of people searching for information on underfloor heating and our new website makes accessing this information easier and quicker" explains Adrian Troop, Nu-Heat's Sales & Marketing Director.
CIB Communications worked closely with Nu-Heat's marketing department to bring the distinctive branding to the new site. The responsive design adapts to different browser sizes and devices, ensuring a better experience for the 40% of users that currently access the website via a mobile phone or tablet.
"By looking back through various analytics, we know that we have three key customer groups with varying requirements and understandings of UFH and renewables – installers, self-builders and renovators, and housebuilders/specifiers.
"Our new homepage encourages users to customise their content so that they see information that's most relevant to them and initial statistics show that users are keen to interact with this new feature."
The website also makes it easier for users to receive a free bespoke underfloor heating quote by uploading project plans online.
"Users can upload their plans directly into our system with a simple online form. Our Estimating team then develop a free quote, bespoke to their project, within 72 hours.  It's a great service for each of our customer groups."
Take a look at Nu-Heat's new look website by visiting www.nu-heat.co.uk