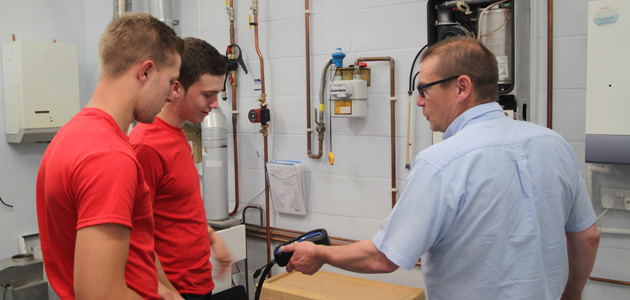 Logic4training has expanded its provision of apprenticeship schemes by launching an NVQ Level 2 Diploma in Plumbing and Heating – a qualification that will equip candidates with all relevant knowledge of domestic heating and plumbing systems and is tailored to the meet the requirements of employers.
Providing a great opportunity for plumbing businesses of any size to expand their business and bring fresh talent to the industry – from sole traders up – this new qualification will enable candidates to develop the competencies required to undertake the installation, maintenance, commissioning and servicing of domestic plumbing and heating systems. The new NVQ is currently open to firms in and around Luton.
Russell Kavanagh, Programme Development Manager for Logic4training, explained: "This is a great opportunity for Luton-based heating and plumbing companies looking to take on an apprentice. We work closely with employers to fully support them throughout the whole process, making sure their business requirements are met, whether they're employing a family member or need help finding a new recruit."
The new apprenticeship pathway is part of the Logic4training's collaboration with Luton Adult Learning, an approach to apprenticeships that puts employers in the driving seat by matching apprentices with exact business needs.
Successful completion of this Intermediate Level will allow candidates to progress onto a Level 3 qualification and/or Advanced Level Apprenticeship in Domestic Plumbing and Heating, which opens up job roles such as Technician, Designer Estimator, Project Manager, Site/Workshop Supervisor/Manager, Chartered Engineer, Sales Engineer or Commercial Manager.
In addition to plumbing and heating, Logic4training's apprenticeship programmes cover gas fitting and white good installation. For more information email: [email protected].