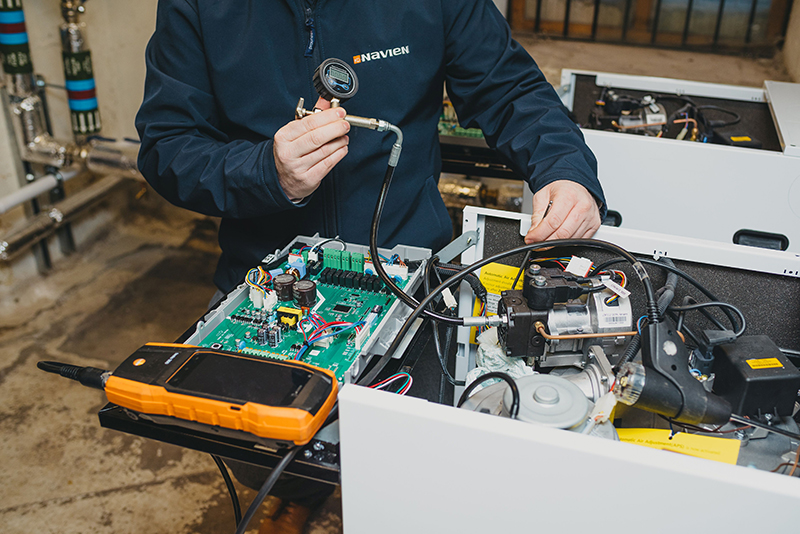 Navien has strengthened its technical support offering over the last six months, adding more engineers to its in-house service team to provide dedicated assistance to its customers throughout the UK and Ireland. As a result, homeowners, heating engineers and merchants can all benefit from Navien's expertise, thanks to the company deploying technical engineers in Scotland and the Midlands, as well as the north, south east and south west of England. This is in addition to a fleet of service agents who are able to attend to customers in need within 48 hours.
The company is well aware of the benefits a knowledgeable, smart support mechanism offers installers, so has a specially trained team available to provide assistance as and when required. Navien is proud to offer comprehensive levels of customer support; from technical back-up through to arranging a service, the team is always able to give advice online or over the phone. Technical engineers are then available to attend onsite if further assistance is required.
Commenting on the company's enhanced offering, Sean Keleher, National Technical Manager at Navien, said: "We are delighted to have strengthened our service department, as it allows us to provide even greater levels of support to installers, contractors and end users alike. By investing in our team, we have an even greater pool of knowledge and experience to draw upon, which is key in ensuring we deliver the best experience possible to our customers."
He continued: "Installers have many different technologies to deal with these days; not only are there the various components that comprise gas and oil boilers, there are all the associated accessories, such as flues and control systems. The latter have grown particularly more advanced, given the emergence of internet connected heating systems, so it's imperative customers can liaise with experts quickly should there be any technical issues or queries."
The company's website provides users with additional support, allowing them to arrange an annual service or help with an issue on their heating system. Installers can also contact Navien head office with any specific enquiries, or download any essential technical documentation. Plus, they can also visit www.navienchoice.com to sign up to the company's loyalty scheme and benefit from a host of fantastic rewards.