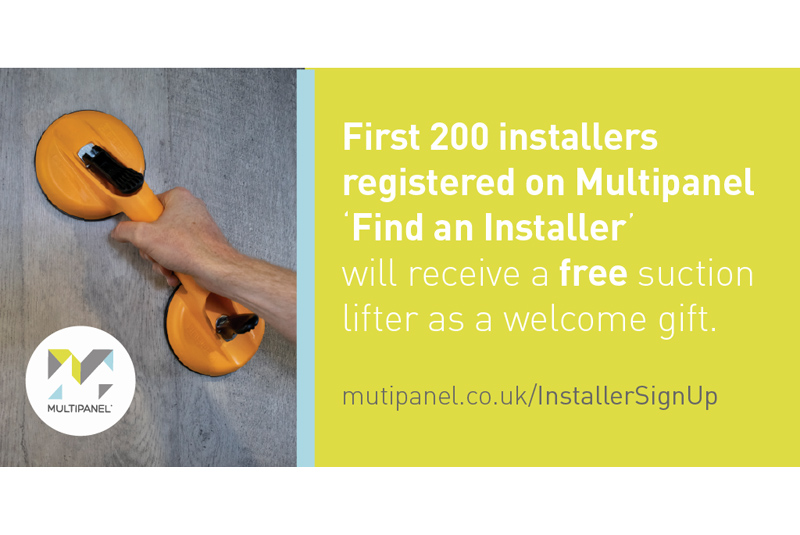 Multipanel has announced it is launching a new initiative in a bid to reach out to installers as well as make it easier for customers to find an installer in their area who fits Multipanel products.
It is hoped, around 2,000 plumbers and installers will sign up in the first year for the free-to-join Find an Installer scheme, which will initially include an online directory. Also planned are improved availability of product literature, samples and technical updates, together with a range of other incentives, which the company hopes will encourage installers to keep recommending Multipanel products to customers.
The scheme will be promoted from November through Multipanel's nationwide network of over 4,500 trade and retail customer outlets, and through extensive social media and direct marketing campaigns. The first 200 installers to sign up to the scheme will also receive a free Multipanel suction lifter, designed to help with Multipanel installations.
Multipanel Sales Director, Gary Matthews, said: "Because Multipanel is not sold directly to the public, we have to work hard to keep our product front of mind with home owners considering a bathroom renovation. Previous and ongoing successful initiatives, such as our Smart Alternative to Tiles advertising campaign, have been about building greater brand awareness and growing sales through our merchant partners. With this new initiative, we are thinking about how we can also support and provide benefits to the installer community, whose importance in selling the idea of Multipanel to customers cannot be overstated.
"One of the most common questions that we and our merchant partners are asked is: Where can I find a Multipanel installer near me? With our new Find an Installer directory, prospective customers will be able to quickly find and view profiles of local installers on the Multipanel website.
"Installers will further benefit from having an additional platform on which they can be found by potential customers as well as an opportunity to gain more work fitting Multipanel and receive the latest product news and literature."
To sign up to the scheme installers need to register online at www.multipanel.co.uk/installersignup.