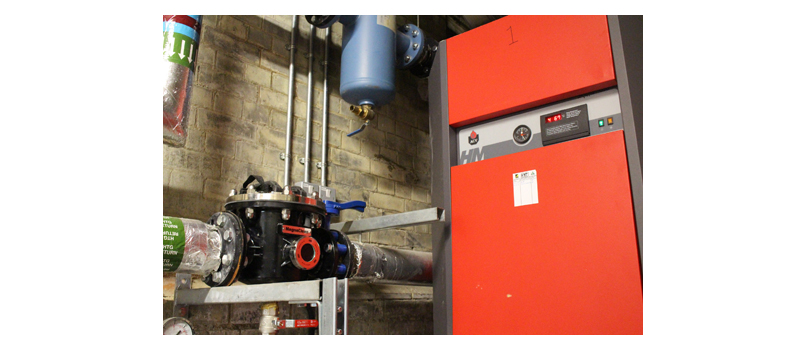 Bannatyne Health Clubs has given ADEY the thumbs up, following a work out at one of its leading spa and fitness centres.
Queen's Award winner, ADEY Professional Heating Solutions, partnered Bannatyne's to provide market-leading commercial heating system protection for its health spa estate.
Following its successful installation at Bannatyne's flagship Fairfield Health Club at Stotford in Bedfordshire, ADEY's MagnaClean Commercial filter is now specified as part of the company's future plant efficiency upgrades to ensure all its heating systems are effectively maintained and protected to the highest standards.
"After installing two brand new boilers, we weren't expecting the filter to collect anything, let alone after such a short period of time," says Jason Hicking, Bannatyne's Regional Estates Manager. "After seeing how much dirt and debris the filter collected in just a month, we can now see exactly why new boilers shouldn't be installed on a dirty system.
"To limit disruption, our engineers were only able to do a partial drain down of the system and flush the pipework in the boiler room. So, ADEY's MC1+ chemical protector and filter work hand-in-hand to draw out and remove debris as it passes through the system to provide ongoing protection.
"Fairfield Health Club is a prestigious establishment, so it's extremely important to us that we provide the best facilities for our members and that they remain at the highest standards.
"The heating system serves our luxurious spa treatment and swimming-based facilities so any downtime or failure would be unacceptable. The results speak for themselves and this is why we've chosen ADEY to ensure all our heating systems are well protected for the future."
Rob Hill, Commercial Business Development Manager at ADEY, says: "We're proud to be working in partnership with Bannatyne's. Fairfield Health Club is the jewel in the crown of the estate and as such, its members expect the best so the club's heating system is no exception. Our MagnaClean filters and premium chemicals provide best practice system protection and we're delighted to help ensure a clean bill of health for such a high profile spa and gym brand."